• PUBLICATION
14 mai 2023
Farah Khelil Le brouillon comme fait pictural
Revue Pratiques picturales
Numéro 7 Le devenir brouillon de la peinture
Institut Acte (EA 7539, Art, création, théorie, esthétique)
École des arts de la Sorbonne
Université Paris 1 Panthéon-Sorbonne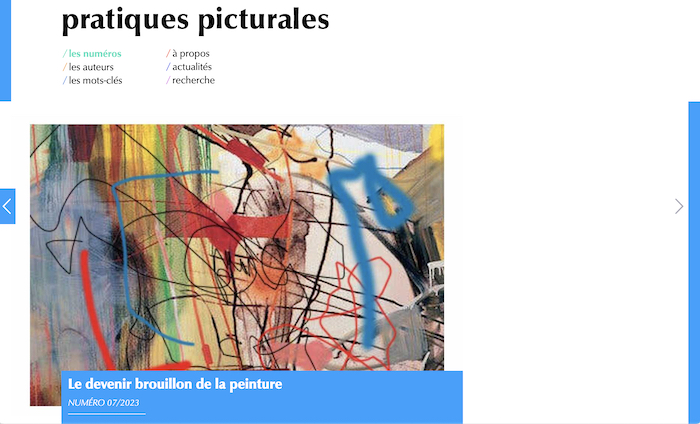 • Plateaux
30 août - 5 septembre 2023
Exposition au Château du Centre Culturel International de Cerisy
Dans le cadre du Colloque : Où sont les technologies d'avenir ?
Direction : Vincent BONTEMS, Christian FAURÉ, Roland LEHOUCQ

• A4xX
Invitation par Christine Demias
A4xX est une œuvre en forme de collection, une édition en tirage illimité gratuite.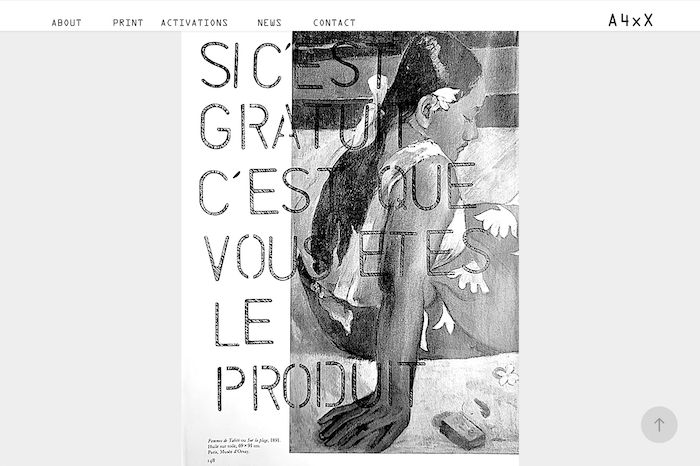 • Signature du livre EFFET DE SERRE
29 Avril 2023 à 17:00
Talk avec Aziza Harmel
à la Villa Marthe
7 bis, avenue des États-Unis d'Amérique, Belvédère, Tunis.
[FR] Effet de Serre est un projet de recherche (2012), d'exposition (2021) et de publication (2022), dans lequel l'artiste Farah Khelil s'est engagée à rénover la serre municipale de la ville de Tunis au Parc du Belvédère avec une bourse d'aide à la production artistique. Son approche interroge la définition de l'objet d'art et de l'exposition ainsi que la place de l'artiste dans les institutions culturelles. Ainsi, l'artiste s'émancipe des exigences du marché en orientant une bourse d'aide à la production artistique vers une action d'intérêt général et de bien commun. Puis, la serre accueille une installation immersive composée d'éléments polymorphes et hétérogènes qui retracent l'histoire architecturale du Palmarium de Tunis dans une dialectique entre eucalyptus et palmier, tradition et modernité postcoloniale.
[EN] Effet de serre is a research (2012), exhibition (2021) and publication (2022) project, in which the artist Farah Khelil is committed to renovating the municipal greenhouse of the city of Tunis at Parc du Belvedere with an artistic production grant. His approach questions the definition of the art object and the exhibition as well as the place of the artist in cultural institutions. Thus, the artist emancipates himself from the demands of the market by directing a scholarship to support artistic production towards action of general interest and common good. Then, the greenhouse hosts an immersive display composed of polymorphic and heterogeneous elements that retrace the architectural history of the Palmarium of Tunis in a dialectic between eucalyptus and palm, tradition and postcolonial modernity.
Book Details :
17 x 24 cm | 160 pages | French/English | 2023
Publisher : Edition BaoBooks
Authors: Clelia Coussonnet, Adnen Jdey, Hedi Khelil et Farah Khelil
Design : Edition BaoBooks
Translation and proofreading : Amina Kaabi / Feryel Saimanouli
Printer: Graphius on Fedrigoni Paper
Édition Bao Books - Tunis
ISBN : 978-9938-78-225-7
EAN : 9789938782257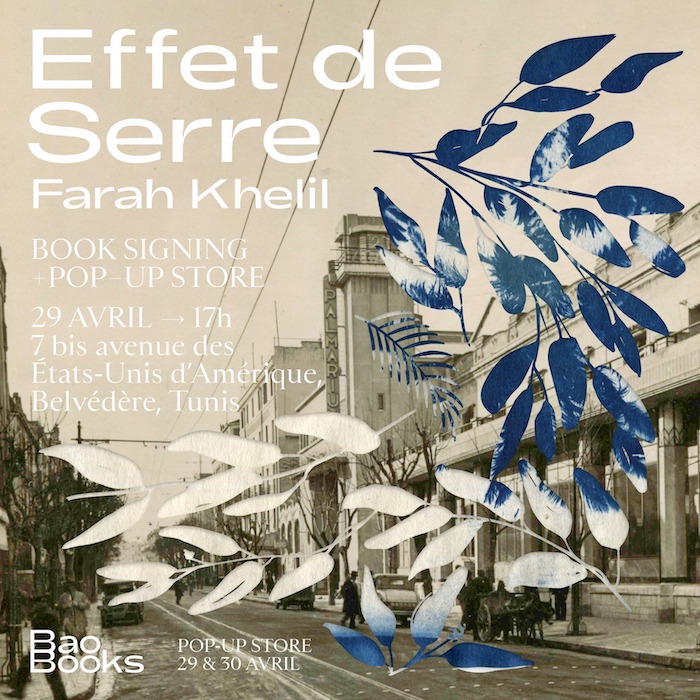 • ART PARIS 2023 l Grand Palais Ephémère Champs-de-Mars
GALERIE LILIA BEN SALAH - STAND H6
30 Mars - 2 Avril 2023
avec :
Mahjoub Ben Bella
Amel Bennys
Zoulikha Bouabdellah
Farah Khelil
Georges Koskas
Baya Mahieddine
Camille Pradon
Malaika Temba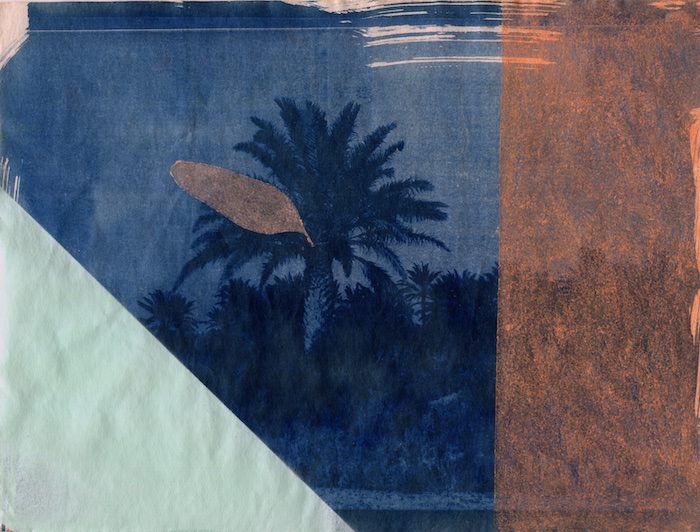 Farah Khelil, Photosynthèse 4, 2022
Pastel sec, cyanotype, acrylique aérosol sur papier, 21 x 28 cm

• Comme de longs échos qui de loin se confondent
19 novembre 2022 > 7 mai 2023
40 ans LAAC Lieu d'Art et Action Contemporaine
Karel APPEL • Pierre ALECHINSKY • ARMAN • Jean ARP • ATILA • Jean-Michel ATLAN • Anna-Eva BERGMAN • Pierre-Yves BREST • Camille BRYEN • Marcelle CAHN • Alexander CALDER • CÉSAR • Jean CHRISTOFOROU • Chu TEH-CHUN • Dominique DE BEIR • Olivier DEBRÉ • Gilbert DECOCK • Christine DEKNUYDT • Sonia DELAUNAY • Charlotte DENAMUR • Jean DEWASNE • Eugène DODEIGNE • Noël DOLLA • Jacques DOUCET • Gérard DUCHÊNE • Natalia DUMITRESCO • ERRÓ • Maurice ESTÈVE • Henri GOETZ • Cecilia GRANARA • James GUITET • Hans HARTUNG • Maya HAYUK • Auguste HERBIN • Toshimitsu IMAÏ • Joëlle JAKUBIAK • Paul JENKINS • Michèle KATZ • Farah KHELIL • Ladislas KIJNO • Louis LATAPIE • Eugène LEROY • Aglaé LIBERAKI • Ludovic LINARD • Béatrice LUSSOL • Alberto MAGNELLI • Gottfried MAIRWÖGER • Robert MALAVAL • Alfred MANESSIER • Maurice MARINOT • Natacha MERCIER • Jean MESSAGIER • Jean-Michel MEURICE • Joan MIRÓ • Marianne MISPELAËRE • Jürgen NEFZGER • Bernard PAGÈS • Édouard PIGNON • Diogo PIMENTÃO • Serge POLIAKOFF • Georges ROUAULT • Gérard SCHNEIDER • Gustave SINGIER • Pierre SOULAGES • Pierre THEUNISSEN • Maxime THIEFFINE • Raoul UBAC • Arthur VAN HECKE • Victor VASARELY • Maria Helena VIEIRA DA SILVA • Hugh WEISS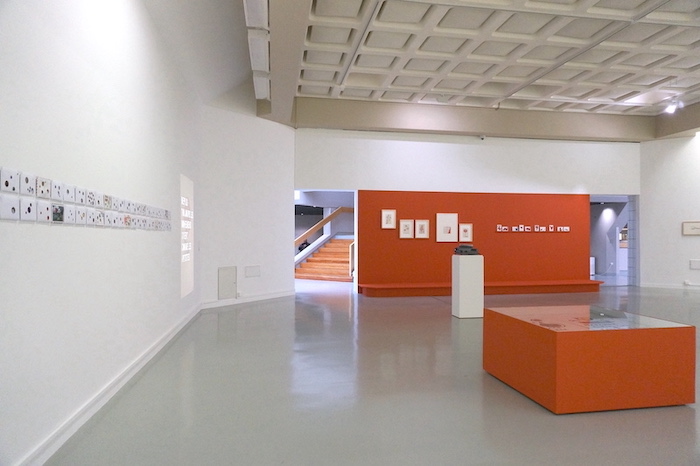 • JOURNAL DE LA MEDINA - ISSUE 1 - 2022
PUBLICATION @ URBAN COMMONS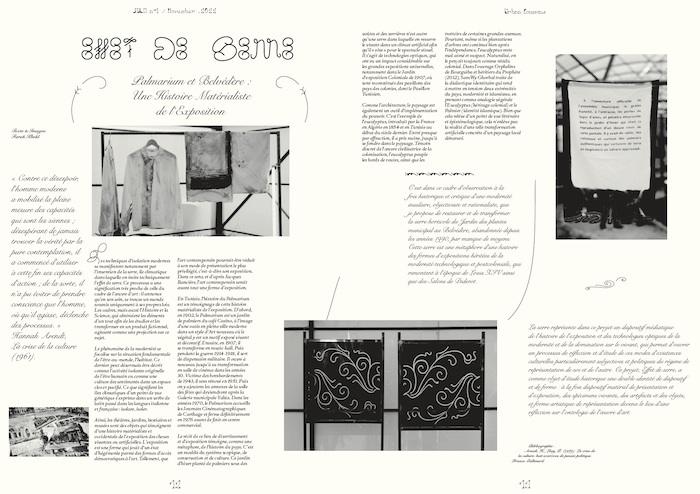 • Offset
exposition collective
Le Centre des Livres d'Artistes cdla
Réalisation : Claude Closky
du 12/01/23 au 08/04/23
Environ un millier d'œuvres réalisées par plus de cent artistes sont présentées sous forme de diffusion sonore et reproductions vidéo projetées accompagnées de leur cartel : auteur, titre, année de création. Aucun objet physique, imprimé, carton, vinyle, vitrine, cimaise, pupitre, épingle, agrafe, n'est exposé.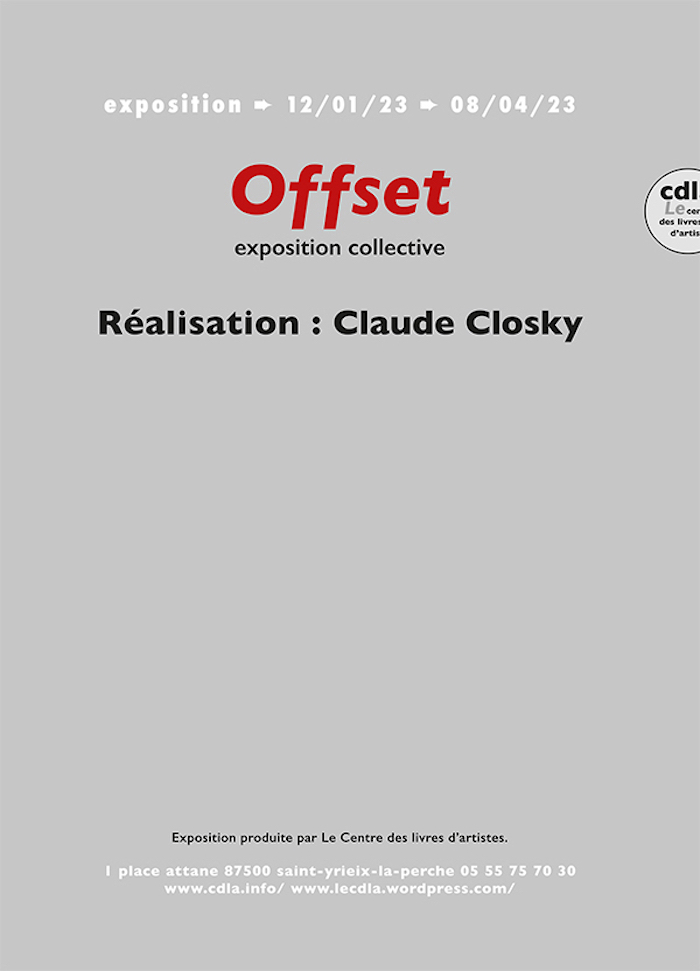 • PUBLICATION
Cet ouvrage est publié à la suite du projet EFFET DE SERRE, exposé du 30 octobre au 30 décembre 2021 au Jardin des plantes, Belvédère de Tunis.
Textes FR/EN :
Clelia Coussonnet : Voyage en paysage connu. Effet de Serre une anatomie écologique, urbaine et architecturale inspirée par le palmier et l'eucalyptus en Tunisie
Adnen Jdey : Zone sensible. Feuillages conceptuels
Farah Khelil : Laisser être et rendre possible. Étude d'une histoire allochtone de l'exposition
Hedi Khelil : Un premier pas dehors
Bourses de recherches et de publication :
AFAC - Arab Fund for Arts and Culture Visual Arts
CAORC - Council of American Overseas Research Centers
CEMAT - Center for Maghreb Studies in Tunis
Édition Bao Books - Tunis
ISBN : 978-9938-78-225-7
EAN : 9789938782257

• PUBLICATION - 2022
When Form Becomes Substance. Power of Gestures, Diagrammatical. Intuition and Phenomenology of Space
Khelil, F. (2022). Le diagramme à l'œuvre. In: Boi, L., Lobo, C. (eds) When Form Becomes Substance. Birkhäuser, Cham., Pages 565-575.
éditions Birkhäuser - Springer
sous la direction de Luciano Boi (EHESS) et Carlos Lobo (Université d'Aix-Marseille).
Cette publication fournit une perspective historique et documentée sur l'utilisation des diagrammes en mathématiques et en logique. Elle offre un aperçu de l'utilisation des diagrammes dans divers domaines scientifiques et permet de comprendre les parcours de pensée à l'œuvre dans les arts plastiques et la poésie.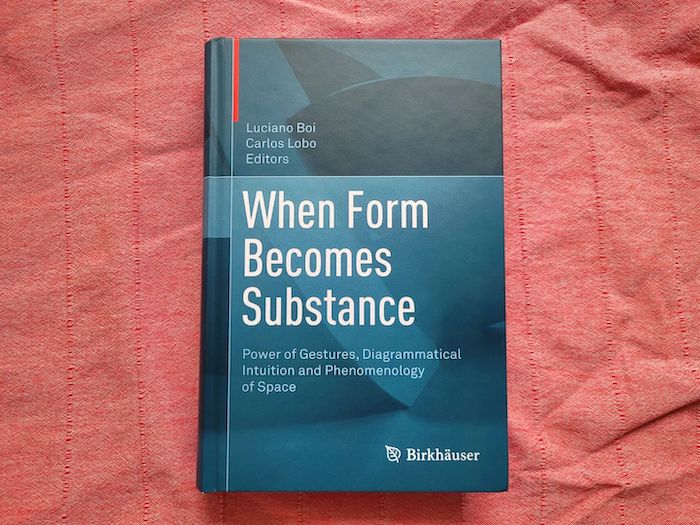 • Journée d'étude : Post–convivialité — Espaces en commun et enjeux du design
le 23 septembre 2022 à l'École de Condé 7 Rue Cambronne Paris 15e
organisée par CondéDesignLab Laboratoire de recherche de l'École de Condé Paris
CONFÉRENCE : Solitude peuplée et digitalité panoptique. Éloge du paradoxal et de l'ambiguë.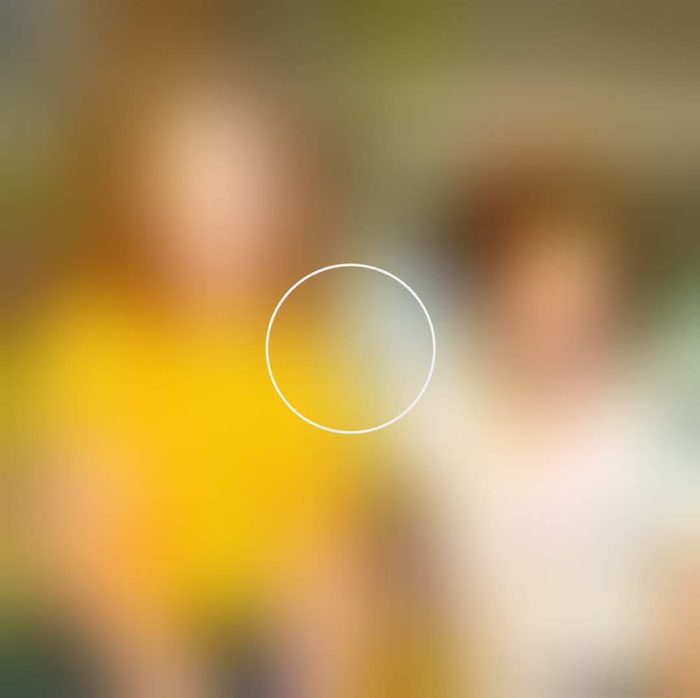 • Partis-pris et points de vue
8 septembre > 8 octobre 2022
Amel Bennys, Baya Mahieddine, Camille Pradon, Farah Khelil,
Inji Efflatoun, Malaika Temba, Zoulikha Bouabdellah
Galerie Lilia Ben Salah - 6 avenue Delcassé, 75008 Paris

• Philomena+ Vienne, Autriche
CARREFOUR DES POSSIBLES V : PASSAGE
Farah Khelil, Vanja Krajnc
Commissaires : Christine Bruckbauer, Sibylle Omlin
17/09 > 12/11/2022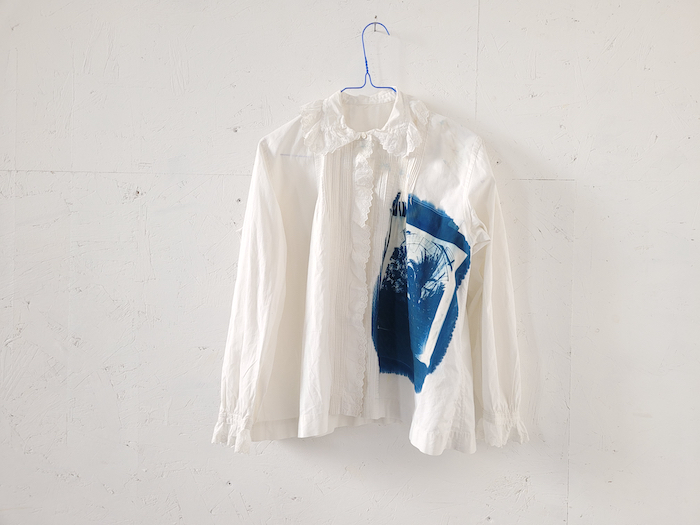 • Art Fair Parallel Vienna
6 > 11 September 2022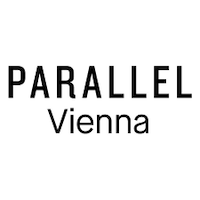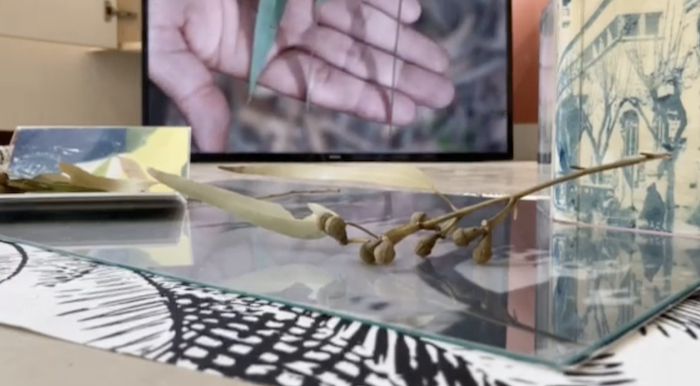 • Des enrichissements 2019 – 2022
Exposition des collections du Centre des livres d'artistes (cdla)
Saint-Yrieix-la-Perche, Limousin
Commissariat Didier Mathieu
25/06/22 > 10/09/22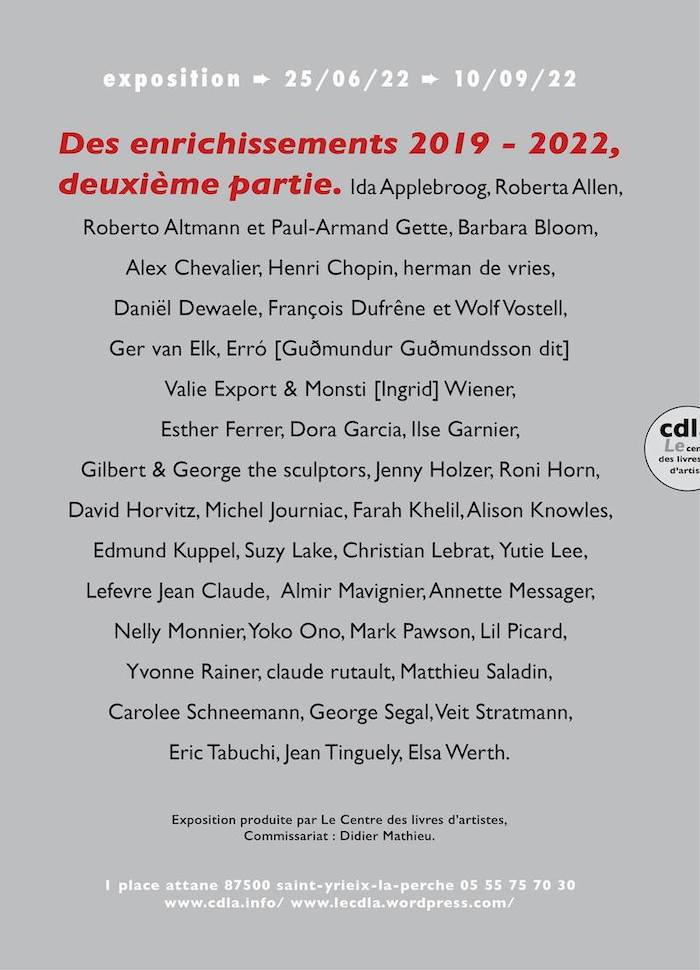 • Acquisition Fonds d'art contemporain Paris Collections 2022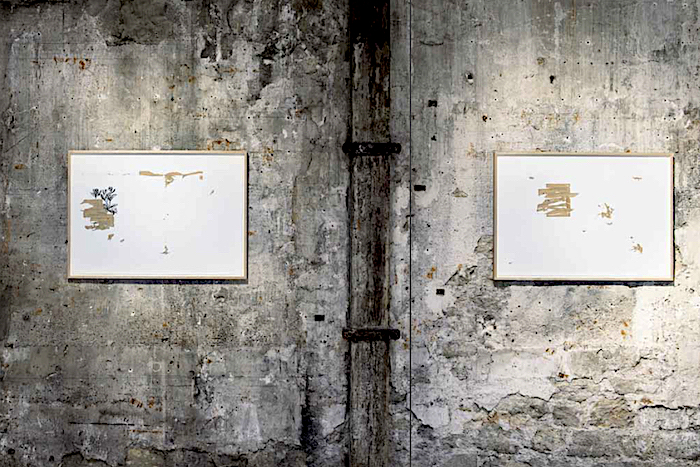 • Biennale de l'Image Tangible de Paris
16 - 29 novembre 2021
Damien Caccia, Farah Khelil, Lucas Leffler et Timothée Schelstraete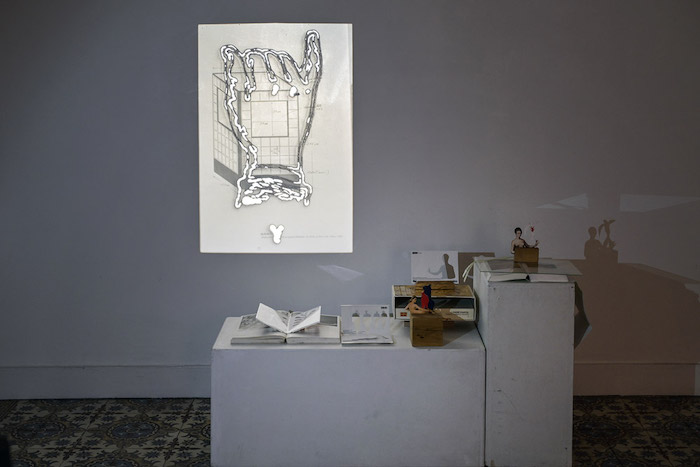 • TSA Art Magazine | Greenhouse Effect: A Visual Essay on Tunisian Artist Farah Khelil | By Weronika Morawiec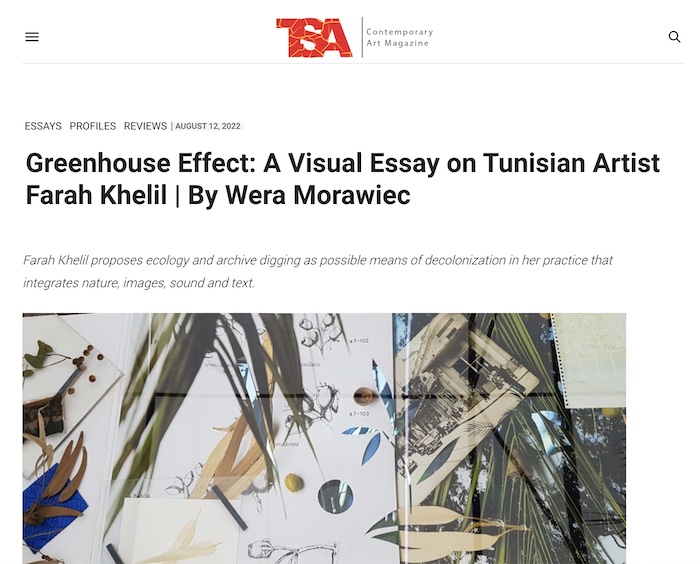 • CEMAT | Maghrib in Past & Present | Podcasts
Entretien avec Ignacio Villalón au Centre d'Etudes Maghrébines à Tunis au sujet du projet Effet de Serre.

• Exposition personnelle : Effet de serre
30 octobre 2021 Jardin de plantes - Parc du Belvédère - Tunis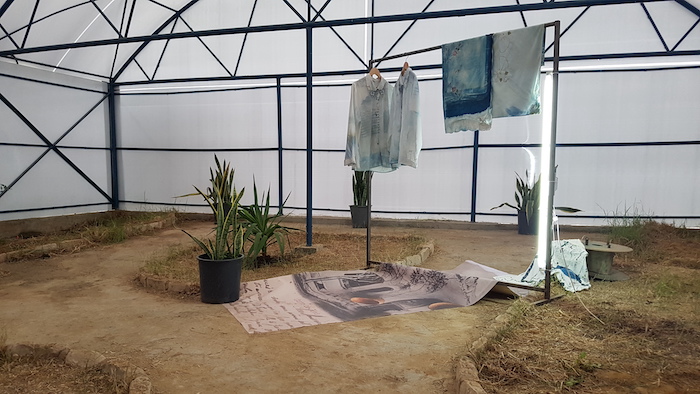 • Carte blanche au Gabès Cinema Fen
Mardi 12 octobre à 19h
Cinémathèque de Saint-Étienne
Une séance présentée par Camille Pradon, en partenariat avec La Boîte, un lieu d'art contemporain (Tunisie).
Avec les films de Fakhri El Ghezal, Farah Khelil, Randa Maddah, Youssef Chebbi.
Effet de surface, de Farah Khelil, 2018, 4'36'' (Tunisie)
Pour Effet de surface, Farah Khelil présente une succession de diapositives qui s'enchainent à un rythme cadencé. Initialement destinées à illustrer des cours d'histoire de l'art, ces images collectées et projetées sur le mur sont détournées par l'artiste : à l'aide d'un laser, elle fait graver des motifs issus de son dictionnaire personnel. Cette délicate intervention marque un temps d'arrêt sur les couches successives de l'histoire, qu'elle soit des arts ou des savoirs, de son écriture et des imaginaires qu'elle véhicule.

• 50/50
Exposition du cinquantenaire de l'École des Arts de la Sorbonne
Galerie Michel Journiac
47 rue des Bergers
75015 Paris
du 29 septembre au 6 novembre 2021
Estèla Alliaud, Élisabeth Amblard, Alexia Antuofermo, Elsa Ayache, Hervé Bacquet, Pierre Baqué, Claude Bellegarde, Maurice Benayoun, Romain Bernini, Dominique Blais, Christian Bonnefoi, Filomena Borecka, Jean-Pierre Brigaudiot, Benjamin Brou, Jean-Pierre Callewært, Claire Chesnier, Éliane Chiron, Jacques Cohen, Richard Conte, Lygia Clark, Carlos Cruz-Diez, Henri Cueco, Jean Da Silva, Jean-Marie Dallet, Alain Declercq, Lydie Delahaye, Paul Devautour, Walter Dörr, Vincent Dulom, Michel Dupré, Anouck DurandGasselin, Miguel Egaña, Ernest Pignon-Ernest, Agathe Eristov, Nicolas Fenouillat, Hervé Fischer, Agnès Foiret-Collet, Élisa Fuksa-Anselme, Paul-Armand Gette, Michel Gouéry, Gisèle Grammare, Bernard Guelton, Jérôme Gulon, Xavier Grégoire, Aurélie Herbet, Céline Hervé, Joël Hubaut, Jean-Luc Jehan, Michel Journiac, Pierre Juhasz, Joël Kermarrec, Farah Khelil, Olga Kisseleva, Maria Klonaris, Jean Lancri, Bernard Lassus, Marion Laval-Jeantet, Anne-Sarah Le Meur, Julio Le Parc, Cécile Le Talec, Maurice Lemaître, Muriel Leray, Dany Leriche, Rose Lowder, Léa Lublin, Maud Maffei, Pascal Mahou, Stéphane Marti, François Molnár, Vera Molnár, Sandrine Morsillo, Côme Mosta-Heirt, Jean-Luc Moulène, Davide Napoli, Olivier Nerry, Olivier Long, Karen O'Rourke, Gina Pane, René Passeron, Grzegorz Pawlak, Frank Pecquet, Antoine Perrot, Ing Phoucéra, Bertrand Planes, Jérôme Poret, Garance Poupon-Joyeux, Bernard Rancillac, Éric Rondepierre, Jean Roualdes, Sarah Roshem, Bernard Roué, Claude Rutault, Benjamin Sabatier, Francoise Saddy, Jean-Pierre Sag, Michel Salsmann, Jacques Sato, Michel Sicard, Hélène Sirven, Joël Stein, Jeanne Susplugas, Katerina Thomadaki, Yann Toma, Michel Verjux, Frédéric Verry, Véronique Verstræte, Christophe Viart, Frédéric Vincent, Isabelle Vodjdani, Diane Watteau, Pascale Weber, Mireille Weinland, Iannis Xenakis, Nil Yalter.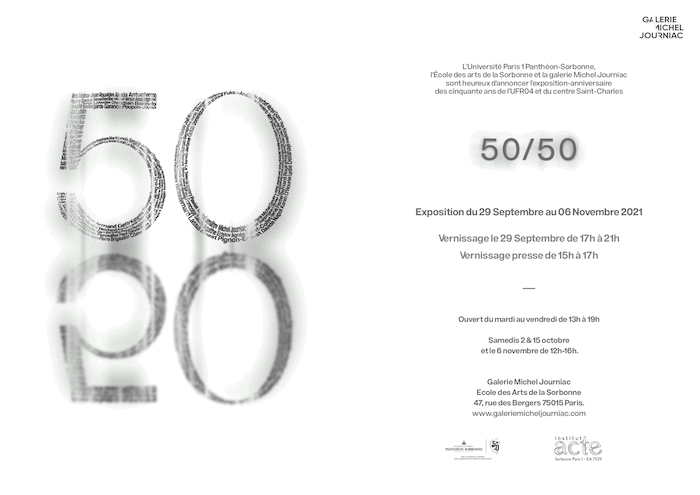 • Assemblage #30 - Solarscope
11 septembre - 2 octobre 2021
Farah Khelil, Xarli Zurell et Manon Harrois.
à Julio Artist-run Space, Paris 20ème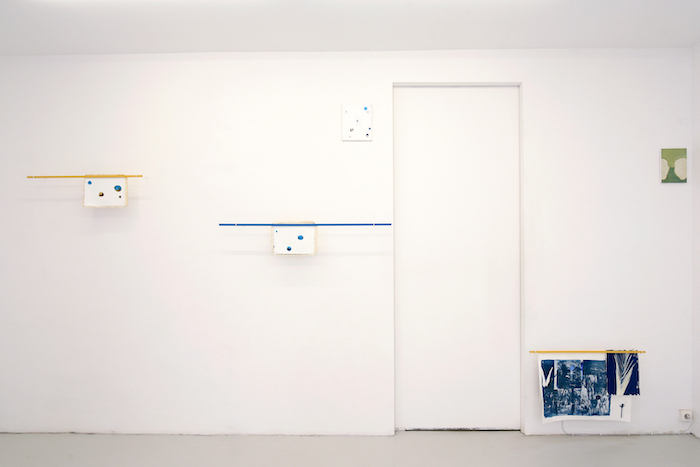 crédit photo Julio Artist-run Space

• Poèmes et dessins de la fille née sans mère
du 26 avril au 17 juillet 2021
Topographie de l'art - 15 rue de Thorigny 75003 Paris
Artistes : Anne Deleporte, Hakima El Djoudi, Vanessa Fanuele, Sylvie Guiot, Horst Haack, Clarisse Hahn, Chloé Julien, Farah Khelil, Glenda León, Charlotte von Poehl, Saadi Souami, Marie Velardi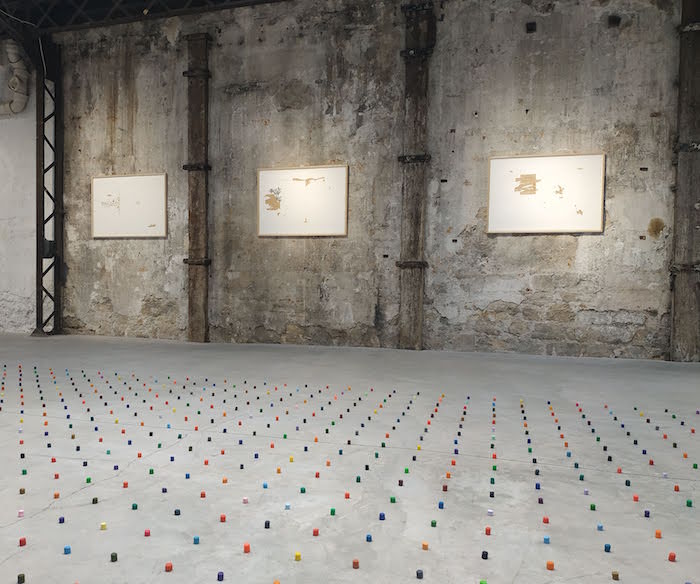 • Le Grand Tour
Centre d'Art H2M - Bourg en Bresse
19 mai > 25 juillet
Commissaire Marie Deparis-Yafil
Slim Aarons, Pilar Albarracin, Jean-Paul Albinet, Pierre Ardouvin, Sophie Bachelier, Fayçal Baghriche, Yancouba Badji, Pauline Bastard, Becquemin & Sagot, Delphine Bedel, Catherine Burki, Arnaud Cohen, mounir fatmi, Gaelle Foray, Marco Godinho, Paolo Iommelli, John Isaacs, Sylvie Kaptur-Gintz, Farah Khelil, Esmeralda Kosmatopoulos, Dinh Q Lê, Shane Lynam, Monk, Martin Parr, Bogdan Pavlovic, Sadek Rahim, Philippe Ramette, Emmanuel Régent, Reiner Riedler, Lionel Scoccimaro, Laurent Tixador, UNTEL, Zevs, Brankica Zilovic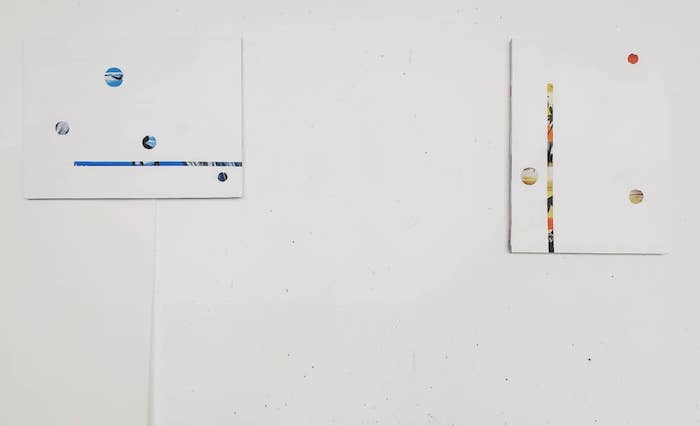 • Répare Reprise
du 1er avril au 10 juillet 2021
LA GALERIE - CITÉ INTERNATIONALE DES ARTS
18 rue de l'Hôtel de Ville 75004 Paris
Commissariat Nora Philippe
et Portes ouvertes sur l'art
Avec : Majd Abdel Hamid, Azza Abo Rebieh, Kader Attia, Sammy Baloji, Yacob Bizuneh, Bady Dalloul, Khaled Dawwa, Kholod Hawash, Katia Kameli, Farah Khelil, Randa Maddah, Sara Ouhaddou, Khalil Rabah, RAMO, Maha Yammine.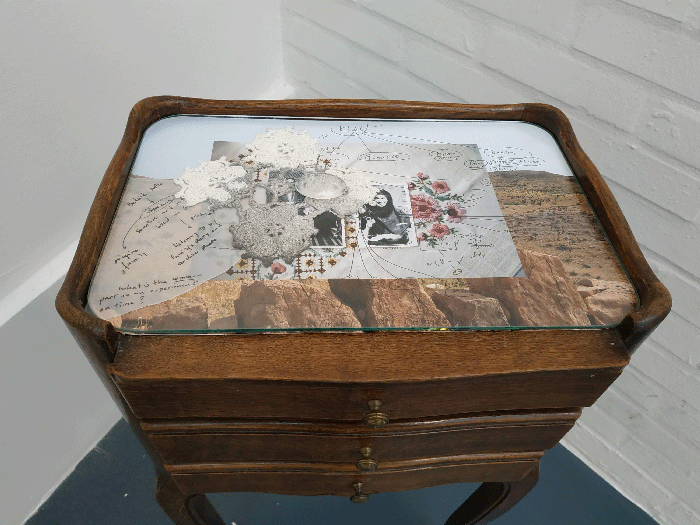 • Freedom of Sleep
du 21 Avril au 16 mai 2021
Commissariat : Anabelle Lacroix
Assistée d'Andréanne Béguin Texte
Artistes : Katja Aglert, Amosphère, Méryll Ampe, Félicia Atkinson, Andrés Avila Reyes, Antoine Bertin, Black Power Naps, Danilo Correale, Debris Facility Ldt. Pty., Helena Dietrich & Thomas Proksch, Rosie Isaac & Aodhan Madden, Farah Khelil, Blanche Lafuente, Sonia Leber & David Chesworth, Violaine Lochu, Clare Milledge, Alexander Powers, Geoff Robinson, Johanna Rocard, Alona Rodeh, Zoe Scoglio, Tom Smith & Jon Watts, Masi Tiitta & Anna Torkkel, Philipp Timischl, Evita Vasiljeva, Joon Yoo.
à la Fondation FIMINCO, 43 Rue de la Commune de Paris, Romainville

Farah Khelil, Point de vue, point d'écoute (Nuit blanche), 2010.

• Fondation d'entreprise Pernod Ricard
Conférence Performance Mardi 23 février 2021 à 19h
Une proposition de Christian Alandete Cycle Partition (Performances)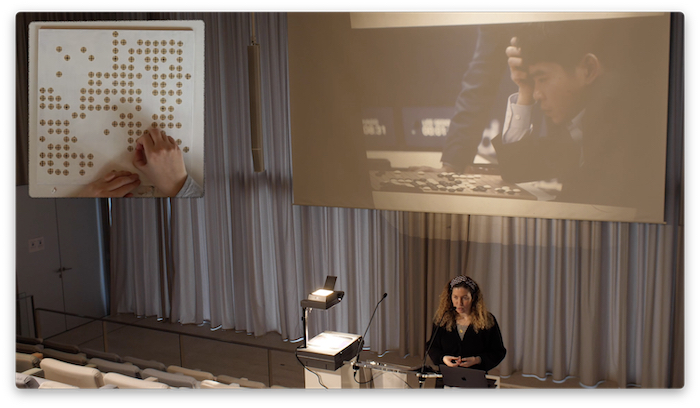 • Comité d'acquisition 2020 Collection FRAC Poitou-Charentes
Point de vue, point d'écoute (Clichés II) : 20 cartes postales de la Tunisie des années 1980-1990 incisées manuellement, 10 x 15 cm chaque, 2013-2020.
Fouilles #1 : 20 diapositives d'archive des sites archéologiques de la Tunisie Romaine, percées au laser, 24 × 36 mm chaque, projection de dimensions variables, 2019.
Fouilles #2 : 20 diapositives d'archive des sites archéologiques au alentours de Pérouse en Italie et de la Tunisie Romaine, percées au laser, 24 x 36 mm chaque, caisson lumineux, 2019.
Effet de surface : 30 diapositives pédagogiques d'histoire de l'art percées au laser, 24 × 36 mm, projection de dimensions variables, 2018.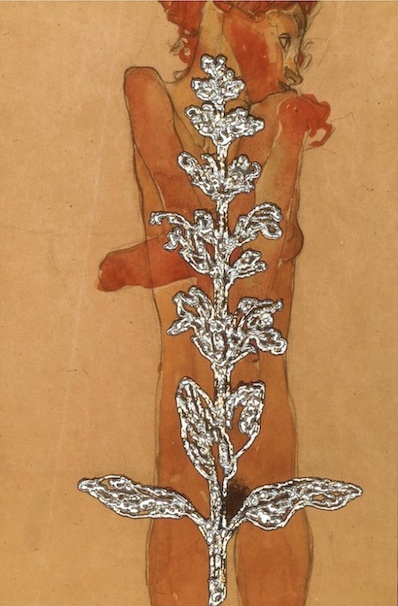 • Untitled - Group show
27 septembre - 15 novembre 2020
à Selma Feriani Gallery
Ziad Antar, Ismaïl Bahri, Lina Ben Rejeb, Amel Bennys, M'barek Bouhchichi, Nidhal Chamekh, Elena Damiani, Rafik El Kamel, Jellel Gasteli, Malek Gnaoui, Pascal Hachem, Farah Khelil, Nicène Kossentini, Maha Malluh, Eva Nielsen, Yazid Oulab, Massinissa Selmani, Catalina Swinburn.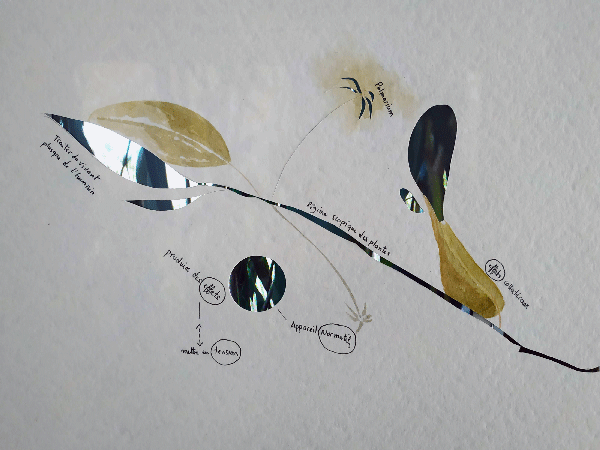 • FROM TRANSLATING TO TRANSCODING
du 3 septembre au 1 novembre 2020
SOCIÉTÉ d'électricité, espace d'art contemporain, Bruxelles
/Brussels Gallery Weekend/
Avec : With Gert Aertsen, Carl Andre, Matthew Biederman, Otto Berchem, Jane Benson, Alec De Busschère, Detanico & Lain, Lars Fredrikson, Pierre-Philippe Hoffmann, Farah Khelil, Takahiro Kudo, LAb[au], Le Corbusier & Iannis Xenakis, Matan Mittwoch, Julie Morel, Joachim Olender, Jacob Riddle, Thomas Ruff, Karin Sander, Yann Sérandour, Venetian Snares, VOID, Hannah Weiner and Wennig & Daubach.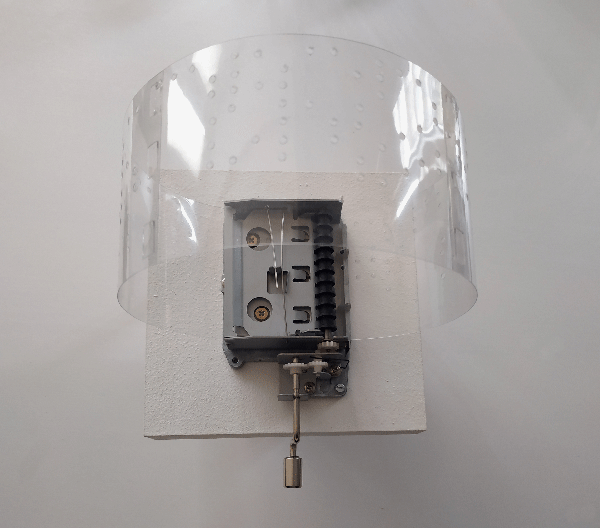 Roven numéro 15 est entièrement consacré au liens entre dessin et son « Nappes et sillons. Du dessin au son et réciproquement »
paru en mai 2020 Les Presses du Réel
Edité en collaboration avec Marie Cantos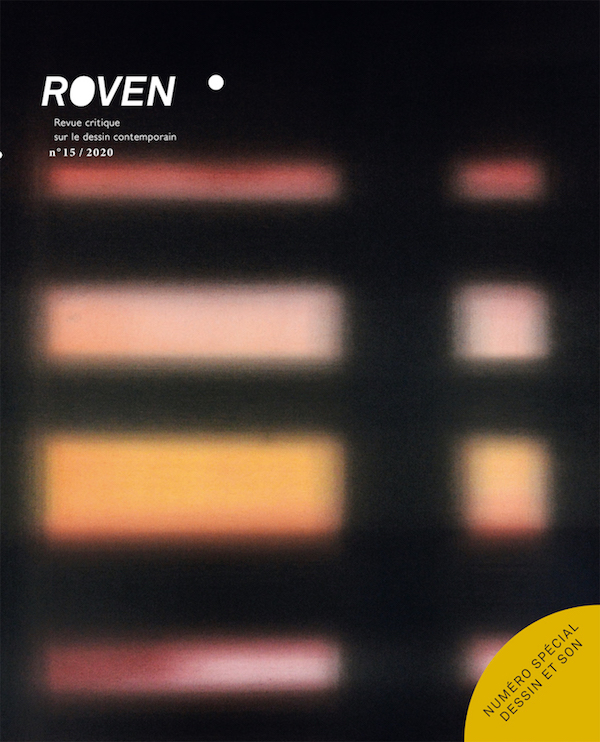 • Touriste !
7 mars – 4 Avril 2020
à l'Atelier – Espace arts-plastiques à Mitry-Mory, Île-de-France
Commissaire Marie Deparis-Yafil
Slim Aarons, Pierre Ardouvin, Pauline Bastard, Catherine Burki, Arnaud Cohen, Mounir Fatmi, Marco Godinho, Paolo Iommelli, John Isaacs, Sylvie Kaptur Gintz, Farah Khelil, Dinh Q Lê, Shane Lynam, Monk HF, Martin Parr, Bogdan Pavlovic, Sadek Rahim, Emmanuel Régent, Lionel Scoccimaro, UNTEL, ZEVS, Brankica Zilovic Chauvain.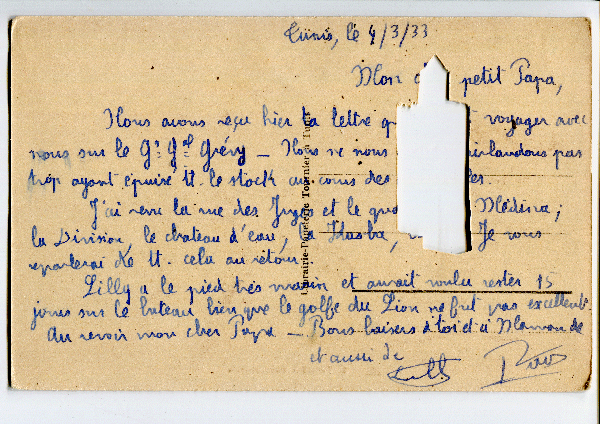 • How to reappear: Through the quivering leaves of independent publishing
January 23 - April 23, 2020
Opening: January 23, 6:30 - 10 pm
at MMAG Foundation, Amman, Jordan
Curated by Kayfa ta / Maha Maamoun and Ala Younis
Contributors:
Adib El Shabab, Al Dob al Ahmar Al Wasee', Ali Eyal , Al Hudood Network, Ali Hussein Al Adawy, Ali Taptik, Ali Yass, antoine lefevbre, Barakunan, Bernard Cella, Chandan Gomes, Dar Al Fata Al Arabi, Display Distribute with NZTT Sewing Co-op, Farah Khelil, Fehras Publishing Practices, Flint Magazine, Golrokh Nafisi, Hala Bizri, Hussein Nassereddine, Imane Ibrahim, Jana Traboulsi, Johanna Domke, Khatt Foundation, Klaus Scheruebel, Marouan Omara, Mohamad Shaqdih, Omar Zakaria, Post-Apollo Press, Raafat Majzoub, Sonallah Ibrahim, Suleiman Bakhit, Tamer Institute, Thukral and Tagra, Yazan Khalili and many more.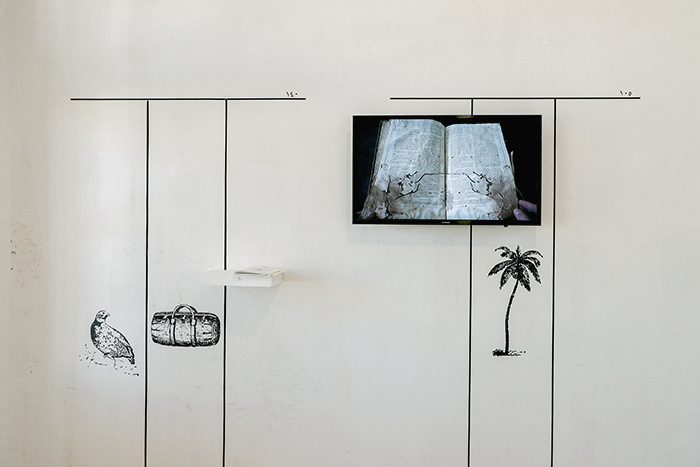 Farah Khelil & antoine lefebvre editions, Bookworm, 2015, Installation. (c) Lina Khalid.

• How to maneuver: Shape-shifting texts and other publishing tactics
10 December 2019 until 16 February 2020
at Warehouse421 in Abu Dhabi
Curated by Kayfa ta / Maha Maamoun and Ala Younis
Exhibition Design by GHAITH&JAD - Ghaith Abi Ghanem and Jad Melki
With Ahmad Makia, IKREK Edições Presenting: Thiago Honório and Marilá Dardot, antoine lefebvre editions, Bady Dalloul, Barakunan, Bidoun, Bernhard Cella,, Thukral and Tagra, Exhausted Geographies, Jaffat El Aqlam, The State, Hussein Nassereddine, Independent publications from the GCC, Khaldoun Chichakli, Display Distribute, Raafat Majzoub, Rafael Domenech, Shubigi Rao, Ali Eyal, Ali Yass, Ghadah Alkandari, Farah Khelil & antoine lefebvre editions, Fehras Publishing Practices, Vikram Divecha, Anonymous, Mohssin Harraki, Moad Musbahi, Miti Ruangkritya, Hala Bizri and Jana Traboulsi, Hind Mezaina.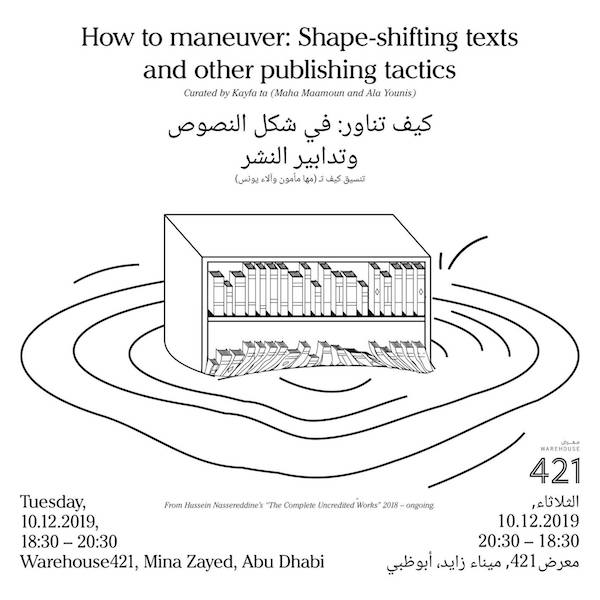 The publication is accompanied by 30 copies in a limited edition, born from the collaboration with the artistic project #SalutiDallIsolaDelleFemmine of the collective of artists and art workers Marcela Caldas, Stefania Galegati, Claudia Gangemi, Valentina Greco.
The ten artists Sara Basta, Chiara Camoni, Anetta Mona Chisa, Claire Fontaine, Drifters, Paola Gaggiotti, Stefania Galegati, Jesal Kapadia, Farah Khelil, Donata Lazzarini have created a postcard in edition of 3, signed and numbered, each inserted in one of the 30 limited edition copies; except the works of Anetta Mona Chisa and Chiara Camoni, which are in a single edition.
The editorial staff includes Maria Rosa Sossai, Maria Pia Bevilacqua, Valentina Bonizzi, Pasquale Campanella, Sara Maria D'Onofrio, Marianna Fazzi, Paola Gaggiotti, Marco Passaro, Patrizio Raso, Valerio Rocco Orlando, Monica Sgrò.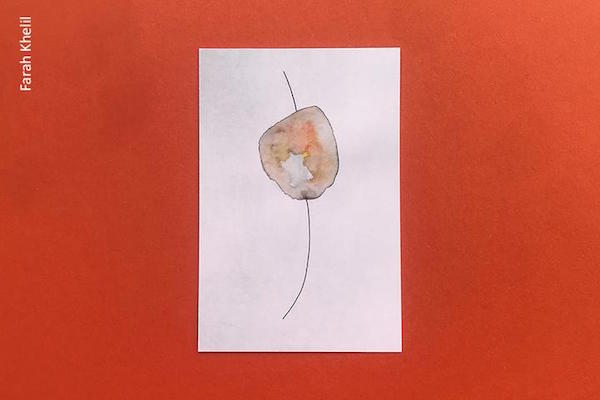 • From Flood to Flight. Myths, Songs and Other Stories
6 > 9 janvier 2019
vernissages 5 novembre et 4 décembre 2019 de 18h à 21h
Initiative de l'association Portes ouvertes sur l'art
Curator Elena Sorokina
Nour Asalia , Bissane Al Charif, Yacob Bizunah, Maral Bolori, Bianca Bondi, Ella de Burca, Jagna Ciuchta, Walaa Dakak, Hanane El Farissi, Sirine Fattouh, Aurélien Froment, Kholod Hawash, Katia Kameli, Kubra Khademi, Farah Khelil, Magdi Masaara, Randa Maddah, Hura Mirshekari, Ramo (Omar Thek-Zeroual), Abdul Saboor
Galerie Premier Regard, Paris

• Abu Dhabi Art : Gateway
Fragments, Yesterday and Today
18.11.2019 – 08. 02. 2020
Curated by Paolo Colombo
at Gallery S, Manarat Al Saadiyat,
Abu Dhabi, United Arab Emirates
Along with the artefacts from the Al Ain Museum there will be fourteen contemporary artists included in the exhibition.
Hamra Abbas, Kamrooz Aram, Farah Khelil, Ilya and Emilia Kabakov, Salam Atta Sabri, Hera Büyüktasciyan, Y.Z. Kami, Lamya Gargash, Kiki Smith, Bahman Ghobani, Oliver Beer, Nima Nabavi, Alaa Edris.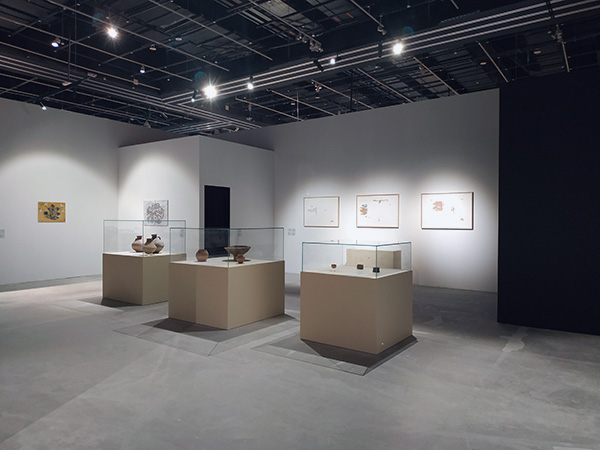 • Leave No Stone Unturned [Remuer la terre]
November 14, 2019 > January, 2020
Curator Clelia Coussonnet
Le Cube, Rabat, Morocco
Hanan Benammar, Abdessamad El Montassir, Sasha Huber & Petri Saarikko, Farah Khelil, Kapwani Kiwanga, Uriel Orlow, Corinne Silva

Exhibition view, Leave No Stone Unturned [Remuer la terre], curated by Clelia Coussonnet at Le Cube-independent art room, 2019, credit Le Cube.

• Cartes mémoires - Residence and solo show
National Archaeological Museum of Umbria, Perugia, Italy
8-27 October 2019
Curator : Gaia Toschi

• Performance Plateaux (2019)
14 septembre 2019 à L'ahah à 17h#Griset
Performance sonore et expérimentale d'une partie de jeu de Go disputée en direct par deux joueurs amateurs de fort niveau Benjamin Blanchard (4ème dan) et Théo Côme (3ème dan), suivie d'une discussion entre Gaëtan Robillard (artiste), Franck Jedrzejewski (philosophe), Antonia Soulez (philosophe), Farah Khelil (artiste) et Michaël Bertin (mathématicien) et le public.
Ce projet est réalisé avec Michaël Bertin, Bastien Germain, Eliot Jarcet et Julian Bruxelle à l'Ecole d'ingénieur ESIPE-IMAC.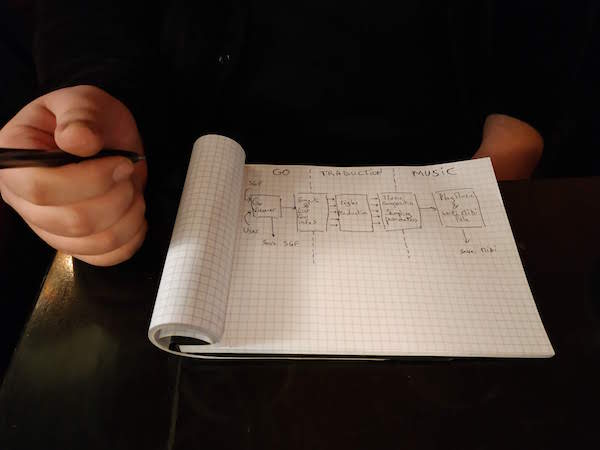 Plateaux (2019) a reçu le soutien de la Fédération Française de Go.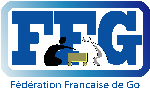 • La Forme de l'information
13 juin > 13 juillet 2019
hon-bookstore, Les Grands Voisins
74 avenue Denfert Rochereau, 75014 Paris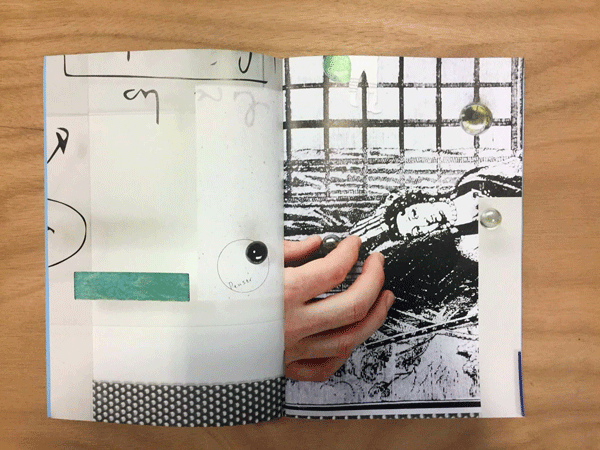 la forme de l'information — une publication en hommage à Bachir Majdoub par Farah Khelil et antoine lefebvre editions produite en juin 2019 à 200 exemplaires. Les textes de Bachir Majdoub ont été traduits par Adnen Jdey dans le cadre de l'exposition Graines de pensée à la Selma Feriani Gallery en septembre 2018.

• Some of us
1er Juin - 13 octobre 2019
KUNSTWERK CARLSHÜTTE, Büdelsdorf, Allemagne
Curator : Jérôme Cotinet-Alphaize
Associate Curator : Marianne Derrien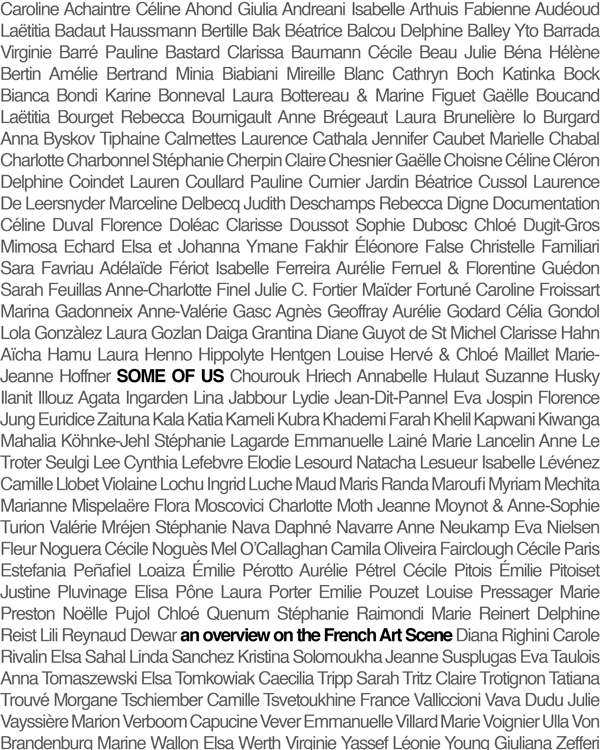 •
The Arab Fund for Arts and Culture - AFAC
2019-2021
"Effet de Serre" ("Greenhouse Effect") aims at studying the history of an emblematic place in Tunisia, the Palmarium, and at sharing these research results and archives in a greenhouse located in the Parc du Belvédère, in Tunis. The project's approach is to provide a critical vision of artistic intervention in a horticultural greenhouse and how it may produce a different relation to the artwork.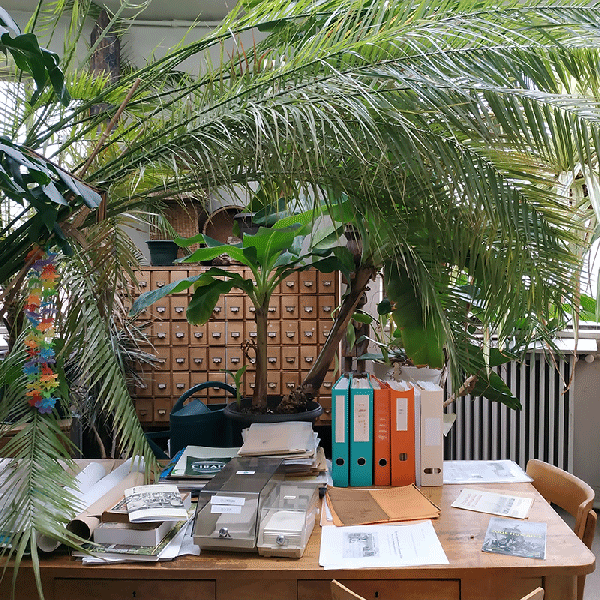 • Workshop : bookmarks
May 13, 2019
an invitation from Maria Rosa Sossai (curator)
organisation La luna al guinzaglio (artistic direction)
as part of M.E.M.O.R.I. - Euro Mediterranean Museum of Unwanted Objects, Matera, Italy
The M.E.M.O.RI. Labs are educational paths organised at exhibitions, meetings with experts, educators and other pedagogical and training initiatives. At this event, Maria Rosa Sossai will present the five works of contemporary art donated to M.E.M.O.RI. by artists Carlos Aires, Cesare Viel, Mohamed Bourouissa, Mohamed Larbi Rahali and Farah Khelil. The latter will be present at the event, and will lead participants in creating bookmarks, customised using different techniques. These small artifacts, with phrases that are meaningful to the participants, will be left inside books in order to be found by chance by those who read them in the future.
Matera
Capitale Européenne de la Culture 2019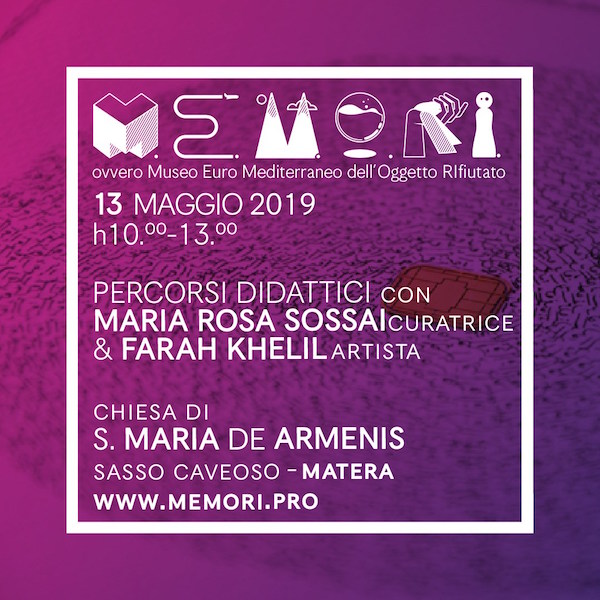 • Heartbreak
11 May – 24 November 2019
Ca' del Duca, Corte del Duca Sforza, San Marco 3052, Venice
Curators: Tamara Chalabi and Paolo Colombo
Commissioner: RUYA MAPS
Artists : Majd Abdel Hamid, Talar Aghbashian, Lana Cmajcanin, Maryam Hoseini, Imad Issa, Farah Khelil, Randa Maddah, Füsun Onur and Christiana Soulou.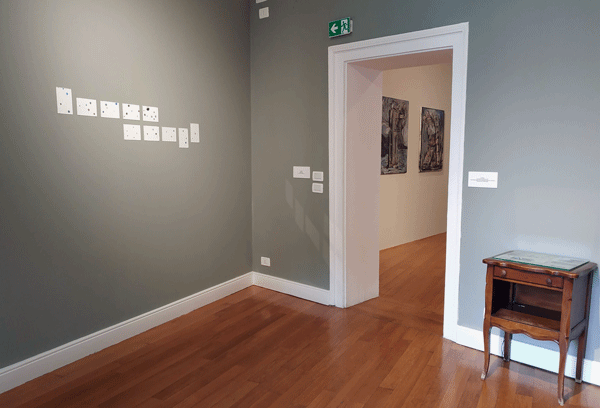 The landscape is not a bookmark, 2019, Wooden bedside table, glass, video on digital frame, photographs and documents. Sphères, 2019, 10 postcards painted in white. Courtesy of the artist and Ruya Maps

• MIART - solo show
Officine dell'Immagine Gallery / What to see at MiArt 2019 - Juliet art magazine
April 4 - April 7, 2019
Fieramilanocity, Milano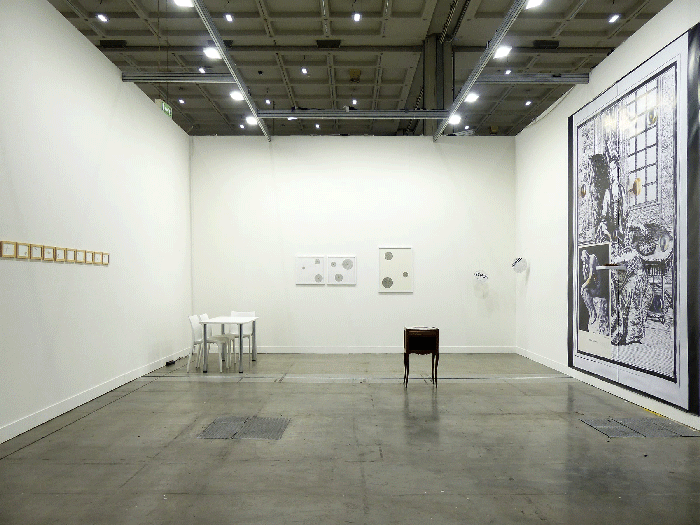 • Surfacing - solo show
March 28 - May 11, 2019
Officine dell'Immagine Gallery, Milan
Curated by Silvia Cirelli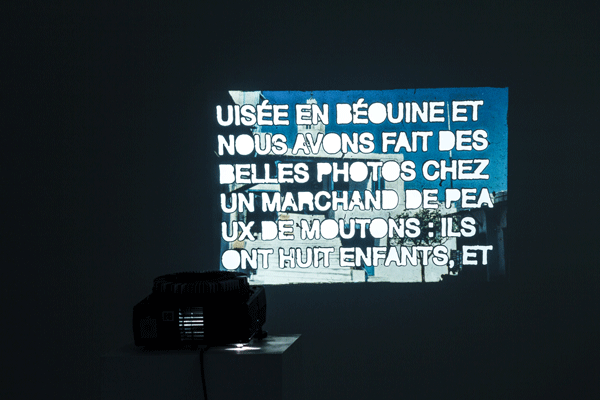 Fouilles, 2019. Diapositives (24 × 36 mm) Tunisie romaine percées au laser, projection de dimensions variables. (c) photo Elena Radice

• Climbing Through the Tide
Exhibition duration: March 15th 2019 – June 06th 2019
at B7L9 Kamel Lazaar Foundation, Tunisia
curated by Basak Senova
Artists : Adel Abidin, Saâdane Afif, Aicha Snoussi, Ali Cabbar, Ali Cherri, Ali Tnani, Almagul Menlibayeva, Bahar Behbahani, Behzad Khosravi Noori, Benji Boyadgian, Bronwyn Lace, Egle Oddo, Etel Adnan, Farah Khelil, Fares Thabet, Fatih Aydogdu, Ghada Amer, Gulsun Karamustafa, Hatem El Mekki , Heba Amin, Hera Büyüktasçiyan, Inci Eviner, Inma Hererra, Jawad Al Malhi, Joana Hadjithomas & Khalil Joreige, Jumana Manna, Kader Attia, Larissa Sansour, Lina Selander, Malek Gnaoui, Marcus Neustetter, Negar Tahsili, Nermin Er, Nicène Kossentini, Nilbar Gures, Ramesch Daha, Raqs Media Collective, Ricarda Denzer, Susan Hefuna, Wael Shawky, Walid Raad, Yasmine Ben Khelil, Younes Ben Slimane, Youssef Nabil, Yto Barrada, Ziad Antar, Zineb Sedira...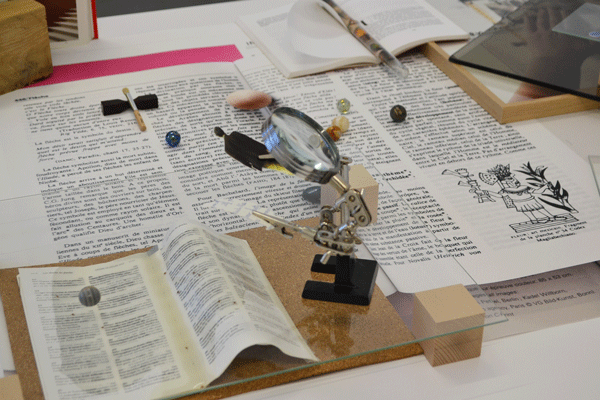 Farah Khelil, Point d'étape #5 (2018) Installation

• 1:54 CONTEMPORARY AFRICAN ART FAIR
La Mamounia, Marrakech
23 – 24 February 2019
Officine dell'Immagine, Milan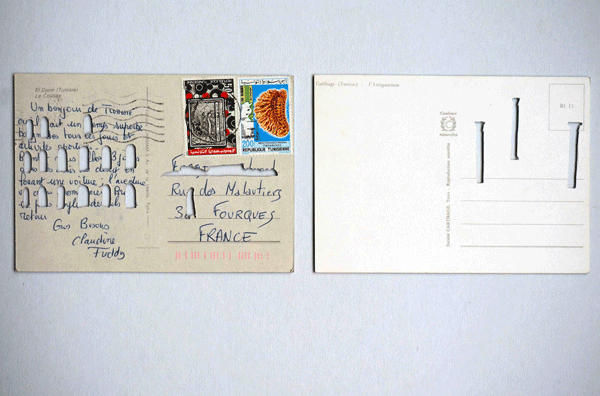 Farah Khelil, Point de vue, point d'écoute (clichés 2), 2017, Variable dimensions. Courtesy the artist and Officine dell'Immagine.

• Conférence / Talk
Séminaire Pensée diagrammatique, philosophie de l'espace et invention des formes
le 7 février 2019 de 18h à 21h à l'EHESS 105 Bd Raspail Paris 14.
Organisateurs du séminaire :
Luciano Boi, Franck Jedrzejewski, Carlos Lobo.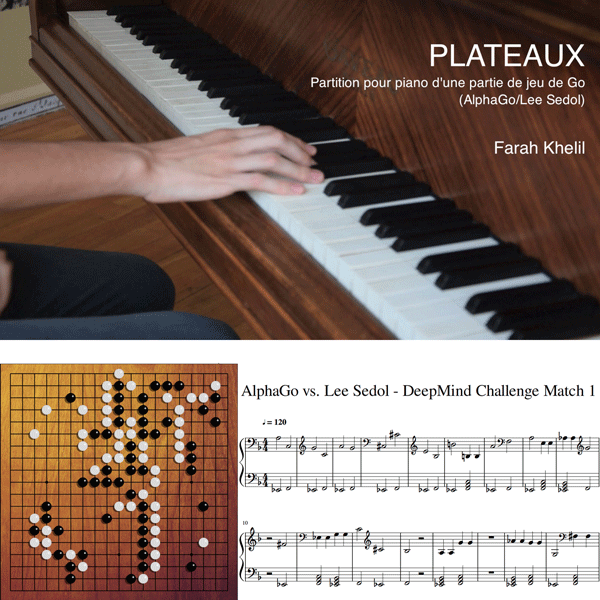 • Nomination prix AWARE pour les artistes femmes 2019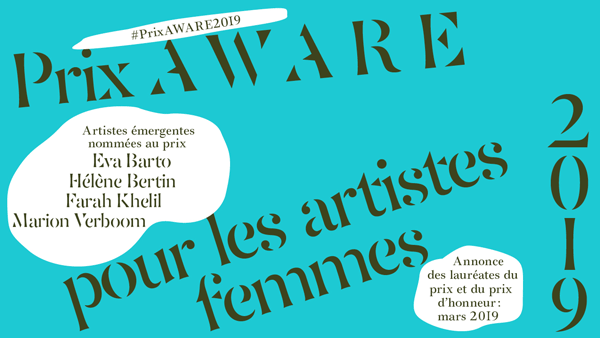 • The World Exists To Be Put On A Postcard
artists' postcards from 1960 to now

Donation of Jeremy Cooper's collection to the British Museum.
Tuesday 5 February 2019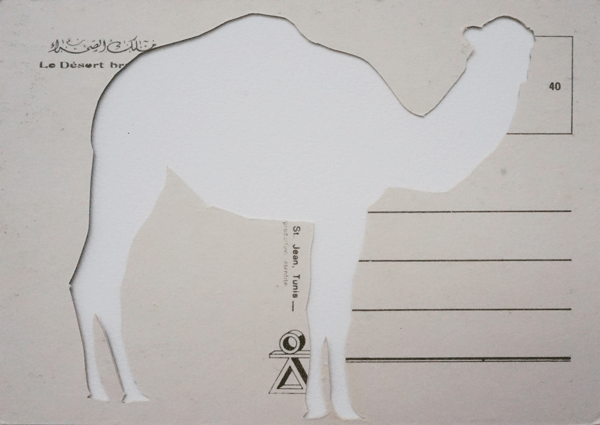 Farah Khelil, Point de vue, point d'écoute (clichés 2), 2017,
Trois cartes postales découpées.

• Liens de travers
du 13 au 30 Novembre
Dans le cadre du Novembre Numérique, à l'initiative de l'Institut français de Tunisie et en collaboration avec l'association Delta, nous proposons un parcours multimédia dans la médina de Sousse.
Avec : Collectif APO33 (France), Wafa BEN ROMDHANE (Tunisie), Jérôme COFFY / Nina GAZANIOl (France), Ridha DHIB (France/Tunisie), Sirine FATTOUH (Liban), Myriam HAMIDA (Tunisie), Farah KHELIL (Tunisie), Malek KHEMIRI (Tunisie), Hela LAMINE (Tunisie), Souad MANI (Tunisie), Gilles MALATRAY aka Desartsonnants (France), Abdellah M.HASSAK (Maroc), Hakim REZAOUI (Algérie), SOUBIA (Tunisie), Georges THIÉRY (France), Roxanne TURCOTTE (Canada), Amira TURKI (Tunisie), Nadia ZARROUGUI (Tunisie).
Plateaux est une traduction en partition musicale d'une partie de jeu de Go menée entre une Intelligence Artificielle (AlphaGo) et un champion du monde de Go (Lee Sedol).
Artiste Farah Khelil
Conception / programmation Michaël Bertin
Piano performance Johannes Colin
Arrangement Nu dense smoke

• Graines de pensée - solo show
23 September 2018 - 28 October 2018
Galerie Selma Feriani, Sidi bou Said, Tunisie
> Lire le communiqué de presse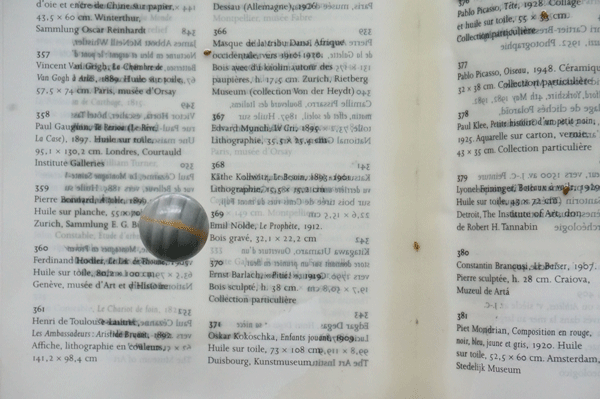 Du 27 juin au 1 juillet 2018
Pavillon Terre - Trab
La Zaouia de Sidi Boukhrissane, La Médina, Tunis, Tunisie
Commissaire Khadija Hamdi Soussi
Kamrooz Aram, Ali Cherri, Malek Gnaoui, Hazem Harb, Farah Khelil, Moataz Nasr, Yazid Oulab, Shahpour Pouyan, Haley Radjaiain, Tarek Zaki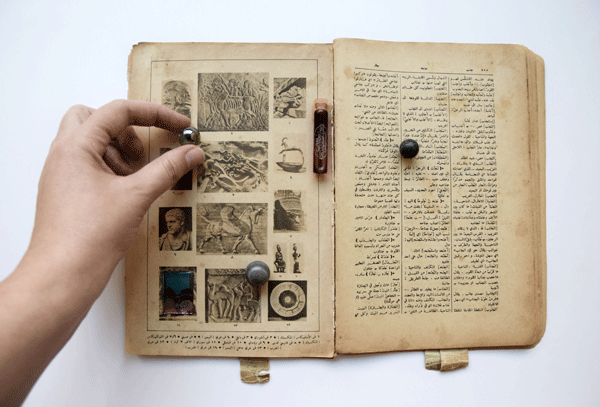 Habiter le lieu des mots, agencement de documents, vitrines, objets, vidéo, parfum

Escale à Saint-Louis, Sénégal
Institut Français de Saint-Louis – Galerie du Fleuve
Du 28 avril au 3 juillet 2018
Commissaire Marie Deparis-Yafil et mounir fatmi
Ali Assaf (Irak), Younès Baba Ali (Maroc), Sophie Bachelier (France) et Djibril Diallo (Mauritanie), Philippe Cazal (France), Gohar Dashti ( Iran), Omar Victor Diop ( Senegal), Mohamed El Baz (Maroc), Dimitri Fagbohoun (France-Benin), mounir fatmi (Maroc), Kendel Geers (Afrique du Sud), Marco Godinho (Portugal), Mona Hatoum (Liban), El Hadji Keita (Sénégal), Farah Khelil (Tunisie), Esmeralda Kosmatopoulos (Grèce), Jamila Lamrani (Maroc), Ndari Lo (Senegal), Anna Raimondo (Suisse), Sadek Rahim (Algerie), Groupe Untel (France), Yara Saïd (Syrie), Curtis Santiago (Trinidad - Canada), Hank Willis Thomas, avec Chris Johnson, Bayeté Ross et Kamal Sinclair (USA), Brankica Zilovic (Serbie)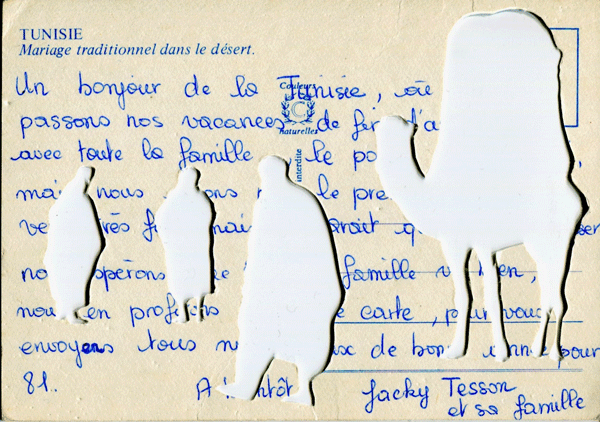 • 1:54 CONTEMPORARY AFRICAN ART FAIR

Pioneer Works, Brooklyn, New York
May 3 - 6, 2018
OFFICINE DELL'IMMAGINE GALLERY, Milan
Halida Boughriet, Safaa Erruas, Dimitri Fagbohoun, Farah Khelil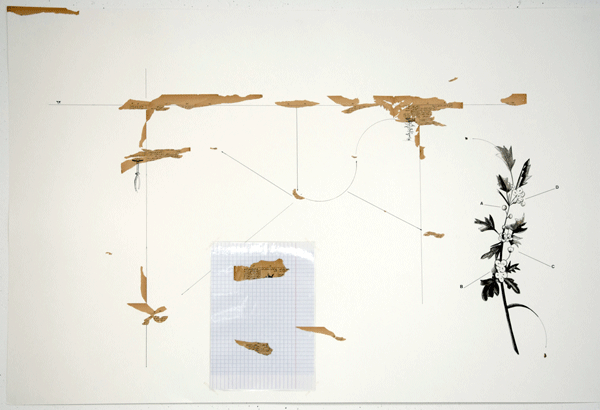 Encyclopédisme, encre, aquarelle et collage sur papier, 80x120 cm

• That There Is Counter Information: Art, Cryptography and the Meta-Datification of Discourse
April 9, Salle Triangle, Centre Pompidou 17:00-20:00
Séminaire IRI – Institut de recherche et d'innovation du Centre Pompidou, Projet européen NextLeap
with : Jessika Khazrik (Artist and curator), Aram Bartholl (Artist), Farah Khelil (Artist), Valerie Cordy (Performer and Director of La Fabrique de Thêatre), Jean-Marie Dallet, (Researcher, Paris 8)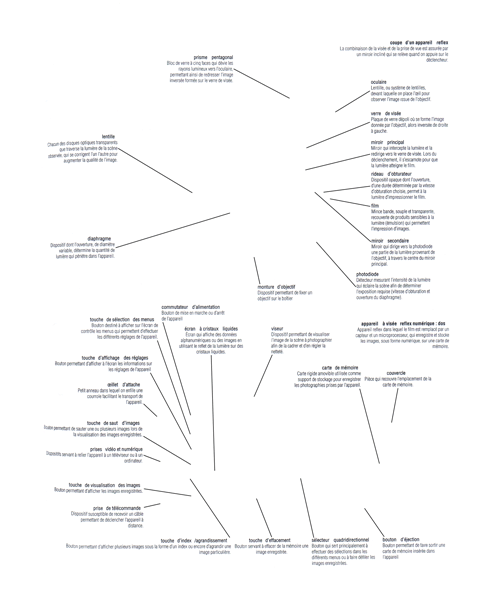 • 1:54 CONTEMPORARY AFRICAN ART FAIR

La Mamounia, Marrakech
February 23 - 25, 2018
OFFICINE DELL'IMMAGINE GALLERY, Milan
Safaa Erruas, Mounir Fatmi, Farah Khelil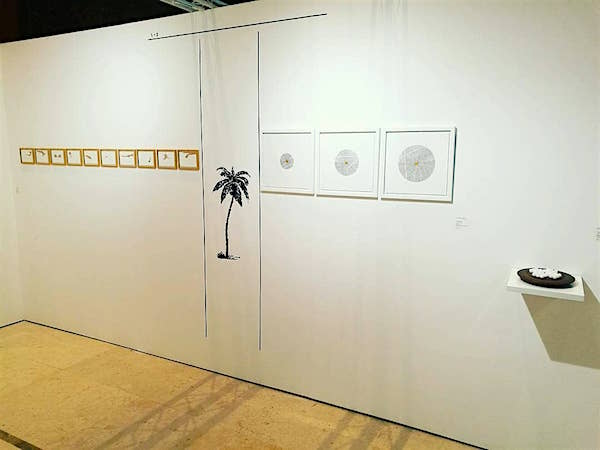 • Revue Possible
Directeur de la rédaction
Julien Verhaeghe
Lancement de la revue Possible au DOC Paris 19ème
samedi 17 février 2018 à 17:00 - 19:00 Plus d'informations sur l'événement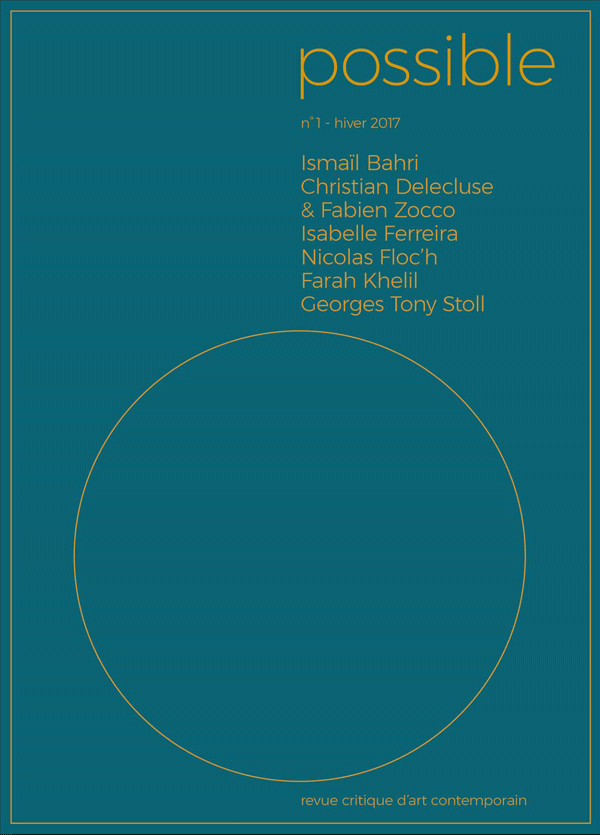 • Nous ne sommes pas le nombre que nous croyons être
36H / 2 - 3 février 2018
Mélanie Bouteloup, commissaire de l'événement
Bétonsalon - Centre d'art et de recherche - HORS LES MURS
à la Cité inter­na­tio­nale des arts Paris 4ème
Atelier de lithographie, Escalier C
Atelier 15 : Quelques approches du problème du manque de temps
DYNAMOGRAMA VII, une session du Laboratoire des intuitions
COORDINATION : Thierry Mouille et David Zerbib
PARTICIPANTS: Naim Ait-Sidhoum, Armand Behar, Stephane Berard, Gregoire Bergeret, Filippo Broggini, Agnès Callu, Marie-Haude Caraes et Nicole Marchand-Zanartu, Matthieu Clainchard, Alexandre Costanzo, Anna Dezeuze, Elie During, Bastien Gallet, Gianni Gastaldi, Laurent Jeanpierre, Charlie Jeffery, Farah Khelil, Julia Kremer, Mauro Lanza, Sophie Mendelsohn, David Rabouin, Gaetan Robillard, Philippe Roy, Didier Tallagrand, Christian Ruby, Linda Sanchez, Nicolas Tixier, et la participation des étudiants du master Sculpture TALM-Tours
Plus d'informations sur le programme + Livret du programme détaillé

• Conférence/Talk

Quand la forme devient substance : puissance des gestes, intuition diagrammatique et phénoménologie de l'espace
25, 26 et 27 janvier 2018
Amphithéâtre, Lycée Henri IV, Paris

• L'horreur du plein
10 December 2017 - 19 January 2018
Group show Curated by Khadija Hamdi-Soussi
Dana Awartani, Ala Ebtekar, Farah Khelil, Timo Nasseri, Haleh Redjaian & Peter Weber
Galerie Selma Feriani Tunis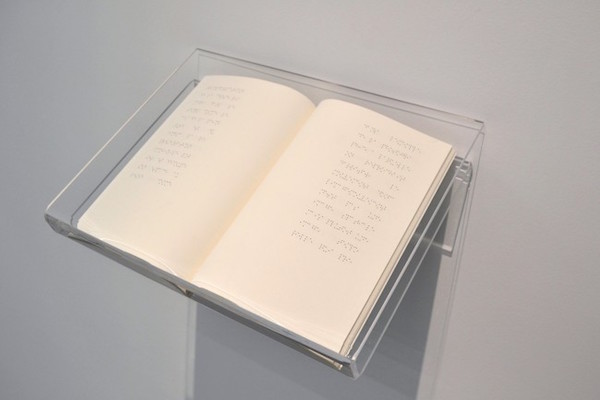 Un livre aveugle, 2009-2017, impression pigmentaire sur papier Riv tradition, 17 x 24 cm, 5 EA numérotés et signés.

• Cartons pleins
December 16th - 17th
MORE Projects - 6-8, rue des Entrepôts 93400 St Ouen
Cyril Aboucaya, Camila Farina, Lamarche-Ovize, Mar Garcia Albert, Bayrol Jimenez, Lauren Coullard, Davide Bertocchi, Loïc Blairon, Pepo Salazar, Jérémie Paul, Xavier Antin, Julien Sirjacq, Delphine Trouche, Grégoire Perrier, Davide Cascio, Pauline Stork, Camille Cottier, Remi Voche, Magda Gerbhard, Lucille Ulrich, Farah Khelil, Hugo Deniau, Kate Fichard, Laurent Isnard, Thomas Couderc, Laura Gozlan, Allison Blumenthal, Lorraine Châteaux,Mimosa Echard, Valentina Traïanova, Élodie Seguin, Loïc Pantaly, Marion Catusse, Julien Carreyn, Clovis Petit, Yann Tomaszewski, Bénédicte Thoraval , Sergio Verastegui , Julie Sas , Guillaume Durrieu, Damien Guggenheim, Wagner Morales, Benjamin Blaquart, Thomas Benard, Émilie Marc, Jérémie Grandsenne, Sarah Garbarg, Juan Perez Agirregoikoa, Beatriz Toledo, Sara Favriau, Gabriela Kraviez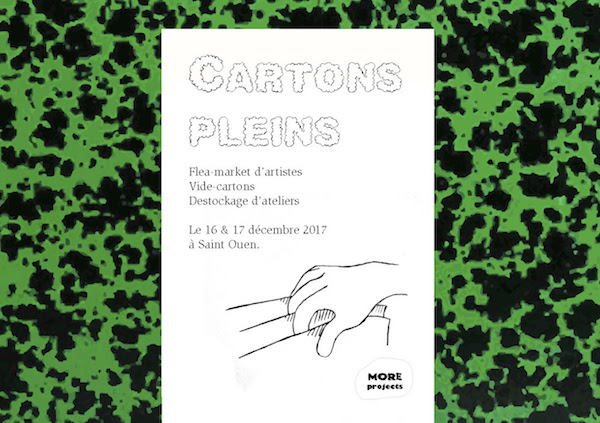 • COPIE MACHINE
29 novembre au 15 décembre 2017
Curators : Antoine Lefebvre et Laura Morsch-Kihn
ESADHaR Rouen

• Restitution. Sauf...(territoires)
Galerie DEUX [dø], Marseille
7 > 21 Octobre 2017
Association Par ce passage, infranchi
Avec Pierre Carrelet, Christophe Galatry, Farah Khelil, Sabine Massenet, Karine Maussiere, Denis Moreau, Martial Verdier, Philippe Valembois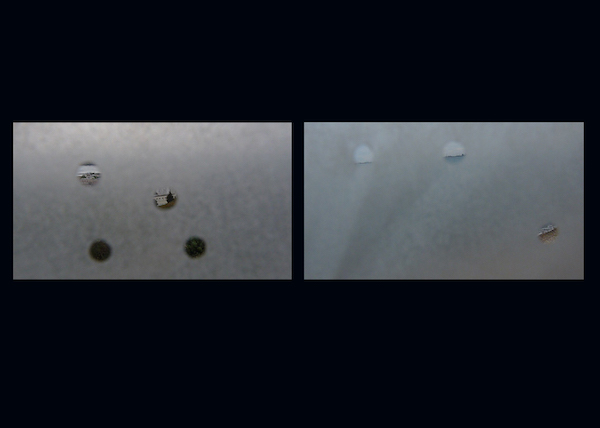 Holes, Vidéo 2012-2014

• Metaxu. Le séjour des formes
29 septembre - 25 octobre 2017
Co-commissariat : Fatma Cheffi & Marion Zilio
Avec : Imen Bahri, Minhee Kim, Farah Khelil, Amélie Labourdette, Dominique Leroy, Souad Mani, Wilfried Nail, Pascale Rémita, Ali Tnani, Benoit Travers, Haythem Zakaria.
à B'chira Art Center, Tunis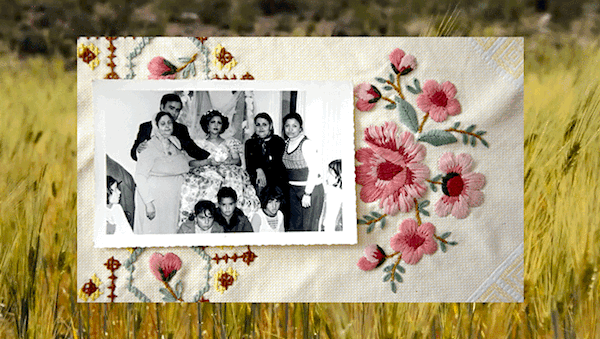 Farah Khelil, Notes de chevet. Tables de chevet, photographies, vidéos, boules quiès, naphtaline, livre, napperons en crochet.
Archive de la famille Khelil, Gafsa, Tunisie

• ART OF THE POSTCARD
2 - 30 September 2017
curated by Jeremy Cooper
at Handel Street Projects, 14 Florence Street, London
Nada Alavanja, Eleanor Antin, Marijke Appelman, Anna Banana, Mrdjan Bajic, Vittore Baroni, David Batchelor, Eleanor Vonne Brown, Steve Butcher, Tom Butler, Filippo Caramazza, Vuk Cosic, Martin Creed, Amelia Critchlow, Simon Cutts, Toni Davey, Richard Deacon, Jeremy Deller, Braco Dimitrijevic, Daniel Eatock, Tracey Emin, Ruth Ewan, Nicolas Feldmeyer, Mary Anne Francis, Ryan Gander, Cristina Garrido, Dan Griffiths, Jeff Gibbons, Lothar Goetz, Markus Hansen, Gabriel Hartley, Tony Hayward, Geoffrey Hendricks, Lucy Heyward, Susan Hiller, David Horvitz, Peter Kennard & Cat Phillipps, Farah Khelil, Helen Knight, Alison Knowles, Joseph Lammirato, Eva Leitolf, Rebecca Loweth, Tahir Lusic, Sara MacKillop, Vlado Martek, Imi Maufe, Gabriele Di Matteo, Jeff McMillan, Jonathan Monk, Simon Morley, Humphrey Ocean, Mark Pawson, John Plowman, Dan Rees, Frances Richardson, Molly Rooke, Lada & Saso Sedlacek, Corinne Schneider, Bob and Roberta Smith, Sarah Staton, Peter Sylveire, Rasa Todosijevic, Jelena Tomasevic, Zoran Popovic, Slaven Tolj, Erica Van Horn, Jessica Voorsanger, David Ward, Russell Weekes, Alison Wilding, Gerard Williams, Anwyl Cooper-Willis, Duncan Wooldridge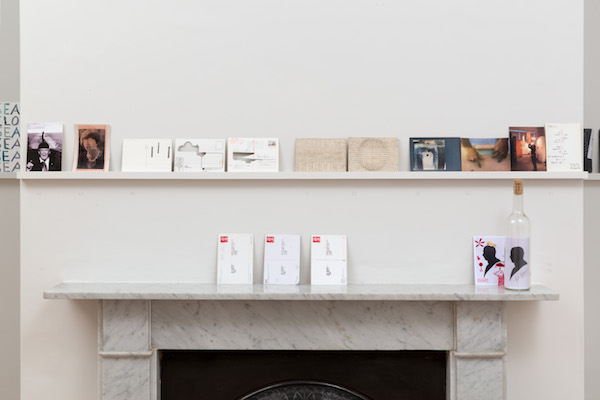 credit FXP Photography
The British Museum has recently received, as a gift from Jeremy Cooper, seven hundred art-historically significant and aesthetically progressive artists' postcards from 1960 to the present day, to be presented in a substantial exhibition and catalogue provisionally titled The Postcard as Contemporary Art at the Department of Prints and Drawings, opening in February 2019.

• Imago Mundi Luciano Benetton Collection
Catalogue
France : Instant Présent / Contemporary Artists from France.
Textes : Isabelle Valembras, Paul Ardenne et Florian Gaité.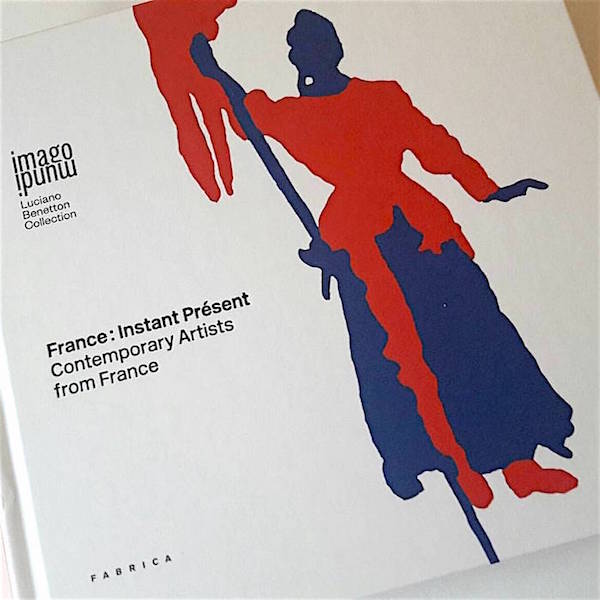 • Plateaux
Performance : partition pour piano d'une partie de jeu de Go (AlphaGo/Lee Sedol).
Partition réalisée avec : Michaël Bertin (mathématicien), NuDenseSmoke (musicien) et Johannes Colin (pianiste).
Jeudi 15 juin à partir de 19h à Appartement
27bis rue Jacques-Louvel-Tessier 19e Paris

Plateaux from Farah Khelil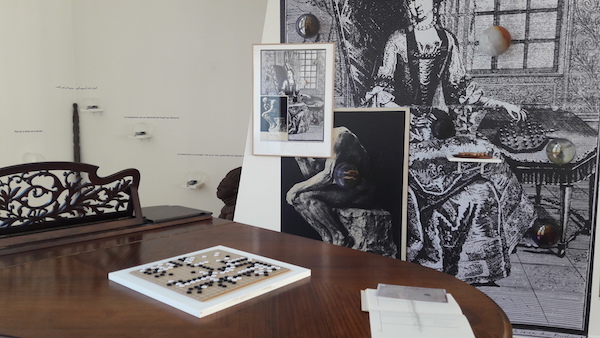 • Solitude peuplée
Exposition personnelle
09 - 24/06/2017
Appartement Nathalie Miltat Paris
Curator : Sonia Recasens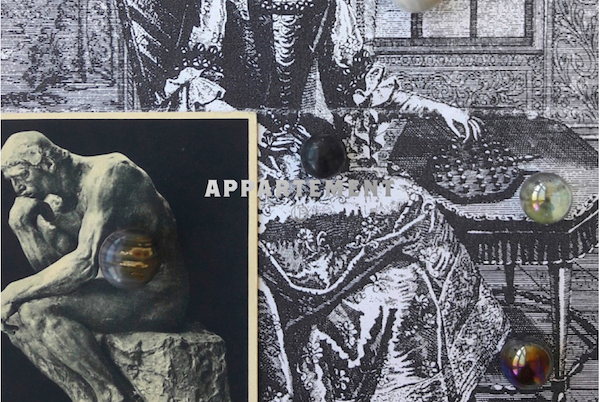 (c) Justine Suillaud Graphic designer & art director

• UNDER THE SAND
Résidence d'artiste à Gafsa en Tunisie
édition #03
28 avril - 13 mai 2017
avec Farah Khelil, Souad Mani, Wilfried Nail, Ali Tnani, Benoit Travers, Haythem Zakaria, Marion Zilio, Fatma Cheffi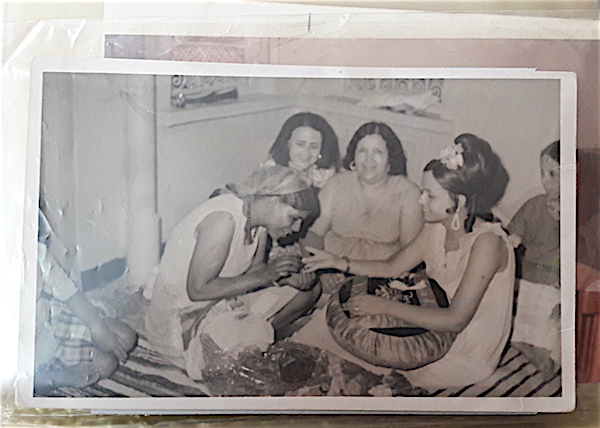 (c) Farah Khelil. Archive de la famille Khelil, Gafsa, Tunisie

• Conférence/Talk

Diagramme et pratiques artistiques contemporaines
27 avril 2017 de 18h30 à 20h30
Une invitation de Franck JEDRZEJEWSKI
Séminaire Théorie des catégories et ontologie plate
Téléchargez Le programme des conférences. Inscription obligatoire (voir bouton « INSCRIPTIONS Modifications de programme »).
Adresse : Salle PrD03, Lycée Henri IV, 23 rue Clovis, 75005 Paris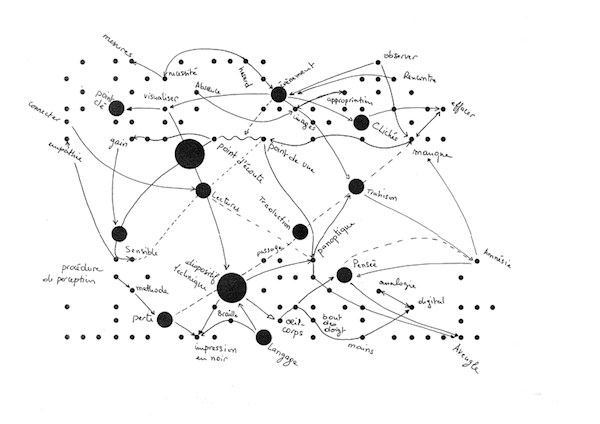 Oeuvre logicielle, diagramme Exposition Punctum, 2013.

• Works on paper
Milan | Officine dell'Immagine
From 20 April to 20 June 2017
curated by Marco Massaro
Elisa Bertaglia, Alessandro Cannistrà, Safaa Erruas, Tamara Ferioli, Farah Khelil, Nunzio Paci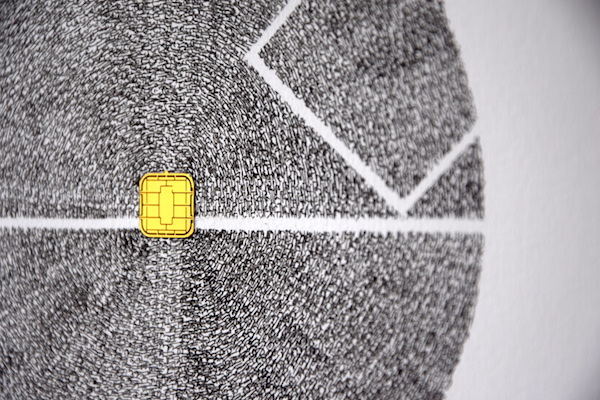 Iqra, ink on paper and microchip, 2012-2017

• Kontakt #22
#22 of Kontakt realized by Farah Khelil

Published on Apr 4, 2017
Curated by Alex Chevalier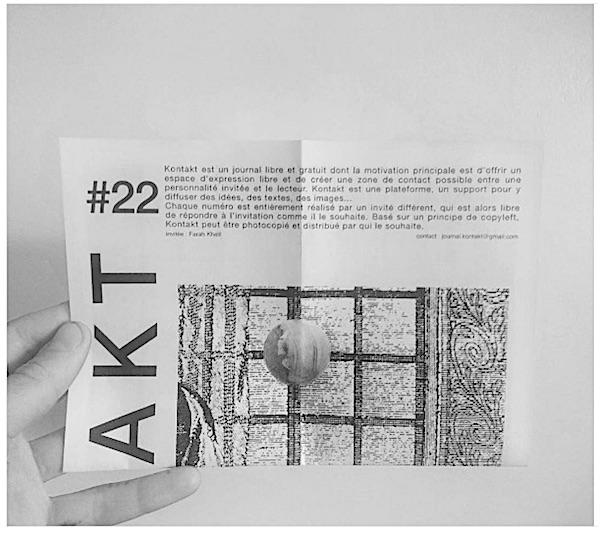 February 2017
Jeroen Bouweriks, Alberto Cuteri, Furen Dai, Leandro Estrella, Kasper Lecnim, Antoine Lefebvre, Farah Khelil, Nicholas Lockyer, Udit Mahajan & Tyler Henry, Ryota Matsumoto, Paolo Patelli, R. Prost, Carla Rak, Giorgio Ruggeri, Nicolas Vamvouklis, Fabian Wolf.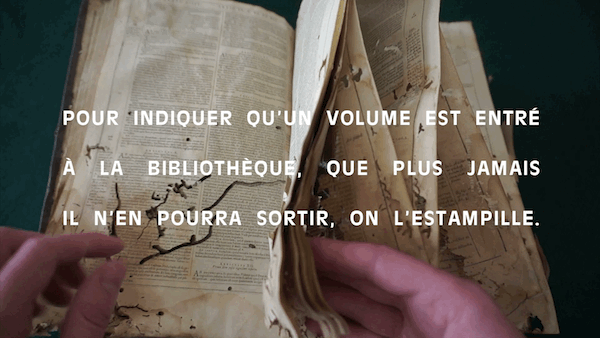 • IMAGO MUNDI ART France Collection
Fondazione Luciano Benetton imago mundi art
Curator Isabelle Valembras-Dahirel
Exposition France, Instant présent 18 Fév. – 10 Mars 2017
Biennale Arcipelago Mediterraneo in Palermo Italy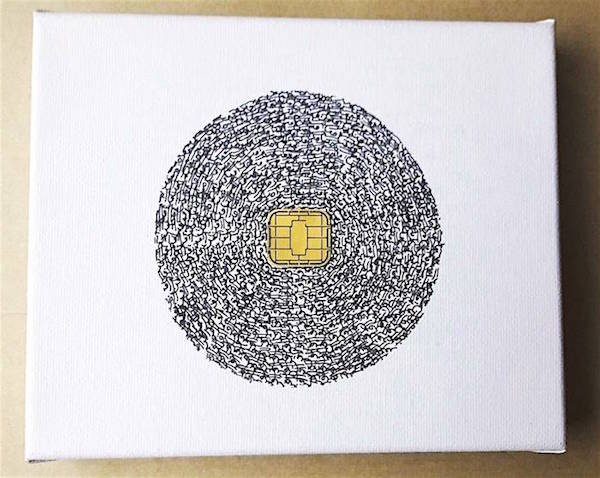 Iqra, Ink and microchip on canvas, 2016, 10x12cm.

• Tunisia, The New Picture
14-18 December 2016
The Tunisian Embassy in London & PACT (People Act for Tunisia)
Selma Feriani Gallery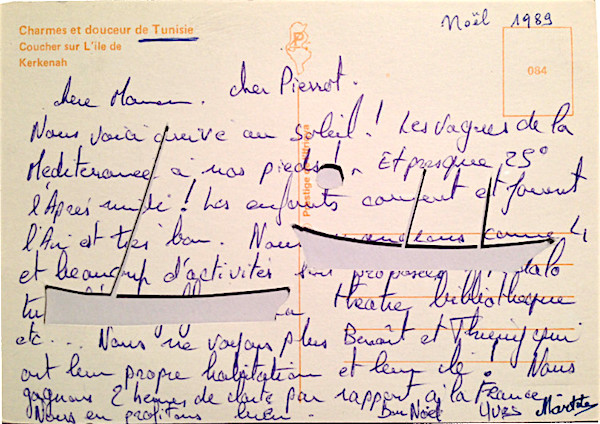 Point of View, Listening Point (Cliches No.II) 2016.

• SUPERGRAVITY
exposition de Gravitons à Plateforme
Du 02 au 04/12 décembre / 14-19h
Lectures-performances tous les soirs / 17-19h
Vernissage le 01 décembre / 18-21h
Franck Ancel, Ludovic Bernhardt, Débora Bertol, Frédéric Develay, Damien Dion, Farah Khelil, Antoine Lefebvre Editions, Fred MARS Landois, MoMO Galerie, Julien Nédélec, Marie-Amélie Porcher, Marie Sochor, Studio Mlle jane dOe, Tazasproject...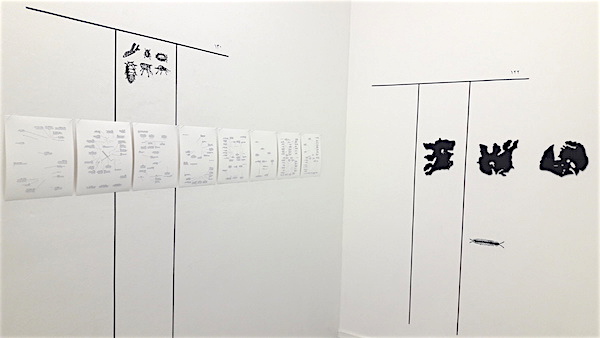 • Le sol
PÉTROLE Édition - TALWEG 04
Transrevue Pensées — Art contemporain
lancements de la publication : novembre 2016
en librairie : à partir de janvier 2017
Guillaume Barborini, Mathilde Caylou, Vincent Chevillon, Clémence Choquet & Mickaël Gamio, Clara Denidet, Roland Görgen, Marina Guyot, Claude Horstmann, Farah Khelil, Hélène Mutter, Camille Paulhan, Antoine Picard, Ursula Schachenhofer, Myriam Voreppe + Benoît Vincent, Patrick Boucheron.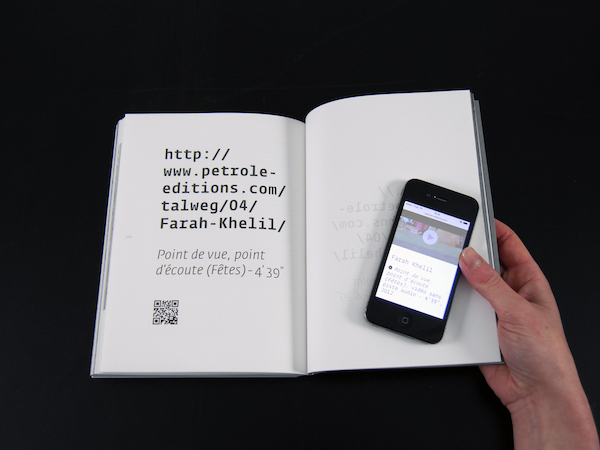 (c) Pétrole Éditions & Farah Khelil
Point de vue, point d'écoute (fêtes), 2012.

• CORRESPONDANCES
Vendredi 18 Novembre 2016
à partir de 19.00
Rencontre proposée par leboudoir2.0 à Photo Saint Germain
avec Bruno Dubreuil, Annakarin Quinto, Léa Habourdin, Catherine Merdy, Lauren Tortil, Farah Khelil, Valérie Mréjen et Stéphanie Solinas.
Centre Culturel Tchèque de Paris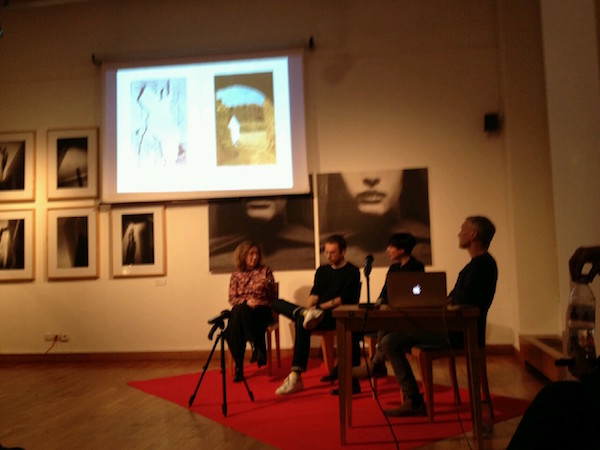 • 1:54 Contemporary African Art Fair London
October 6-9, 2016
Selma Feriani Gallery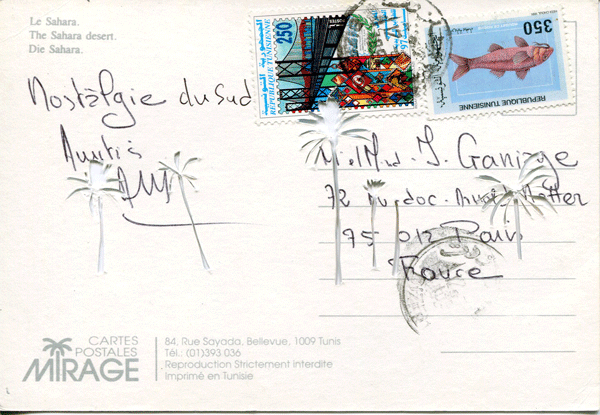 Point of View, Listening Point (Cliches No.II), 2016

• Voice of the border
28 juillet - 28 août 2016
Curator : Fatma Cheffi
Saâdane Afif, Lina Ben Rejeb, Jason Dodge, Pascal Hachem, Hassan Khan, Farah Khelil, Youssef Rakha, Stéphanie Saadé
Selma Feriani Gallery, Tunis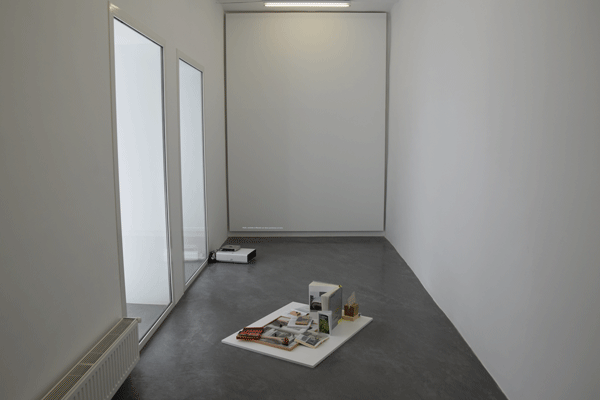 Point d'étape, 2016. Livres, documents, verre, bois, marbre, tirage photo Fine Art encadré, 40 x 50 cm.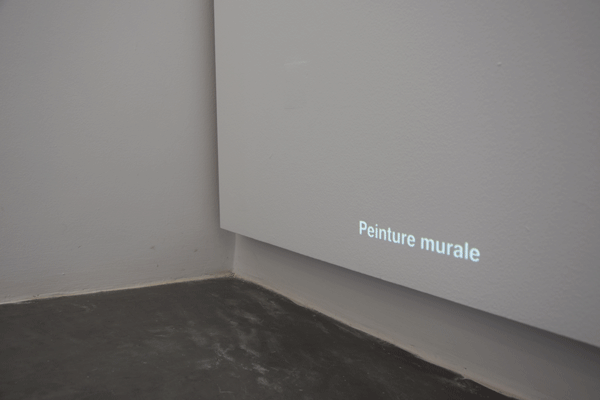 Technique mixte, Projection, 2009-2016.

• 1:54 Contemporary African Art Fair NY
May 5 - 8, 2016. Brooklyn, New York
Officine dell'Immagine Gallery

• Publish or Perish
April 1 — May 8, 2016
Curated with Arts & Sciences Projects
TRANSMITTER Brooklyn, NY
Benoît Broisat, Sessa Englund, David Horvitz, Farah Khelil,
Antoine Lefebvre Editions, Nicole Reber, Paul Soulellis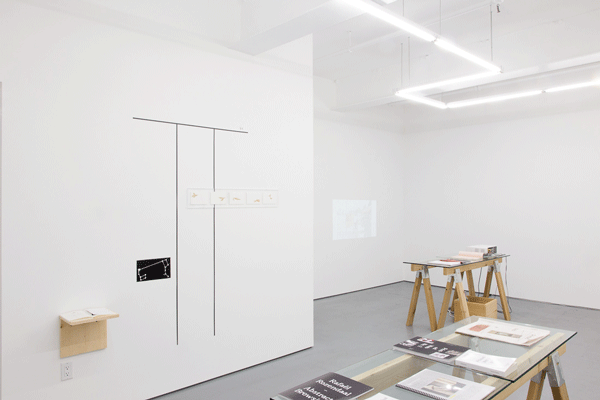 Mojam al arabeia, 2015 - Lignes, 2015

• Transduction
10 mars - 18 avril 2016
exposition personnelle
Mamia Bretesche Gallery Paris

Technique mixte, Animation, 2010-2016

• Safra
8 mars – 23 avril 2016
NEF de la Halle Roublot, Fontenay-sous-Bois
Farah Khelil, Souad Mani, Sana Tamzini, Najah Zarbout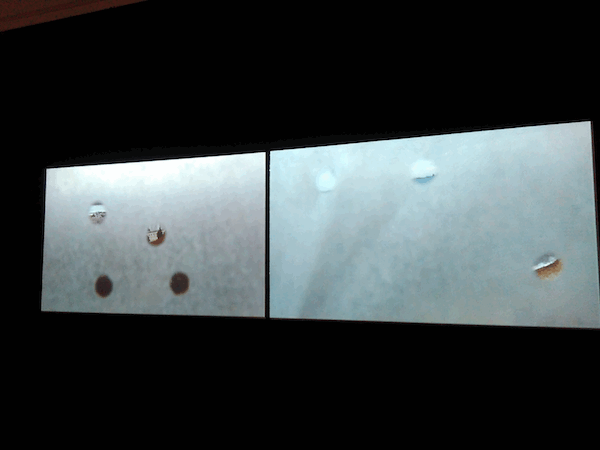 Holes, vidéo, 2014

• Bookworm
Farah Khelil & antoine lefebvre editions
20 février > 10 mars 2016
Undercurrent Projects, New York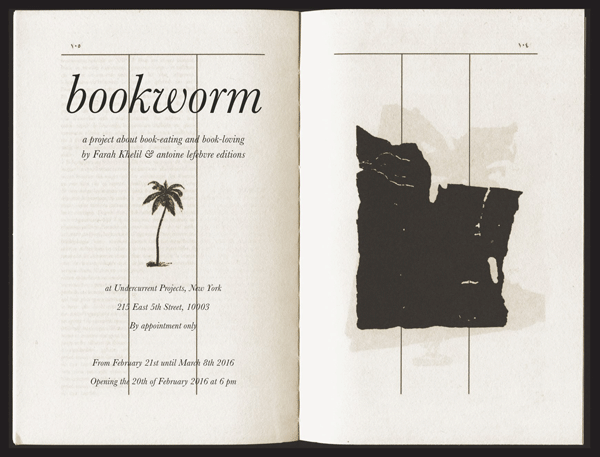 • Arab territories
7th November 2015, Palais de la Culture El- Khalifa, Constantine (Algeria) - Constantine, Capital of Arab Culture 2015
Curator: Nadira Laggoune-Aklouche
Sama AlShaibi, Basma AlSharif, Hayv Kahraman, Yara Mekawei, Lydia Ourahmane, Besma Djmila Khafa, Louisa Babari, Maya Bencheikh ElFegoun, Farah Khelil, Sirine Fattouh, Bashir Makhoul, Khaled Jarrar, Walid Siti, Ali Assaf, Mohssin Harraki, Youssef Ouchra, Rabee Kiwan, Mourad Salem, Magdi Mostafa, Samuel Charbel Aoun, Khaled Hafez, Abdelkader Benchamma, Slimane Rais, Adel Bentounsi, Sofiane Zouggar, Kamel Yahiaoui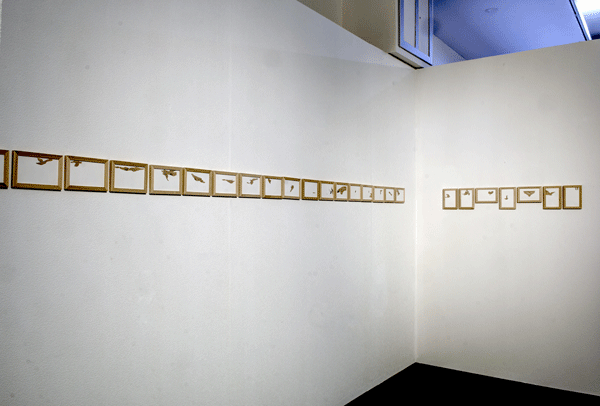 Lignes, collage sur papier, 25 x (10 x 15 cm), 2015.

• CARTE BLANCHE. Young artists from North Africa
22 octobre 2015 > 6 janvier 2016
Officine dell'Immagine Gallery, Milan (IT)
Curated by Silvia Cirelli
Avec : Safaa Erruas, Farah Khelil, Massinissa Selmani.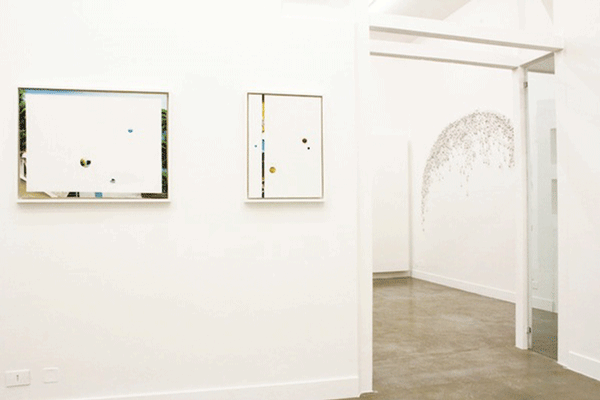 • Bookworm
04 octobre 2015
Avec antoine lefebvre edition, AGorgi Gallery, Tunis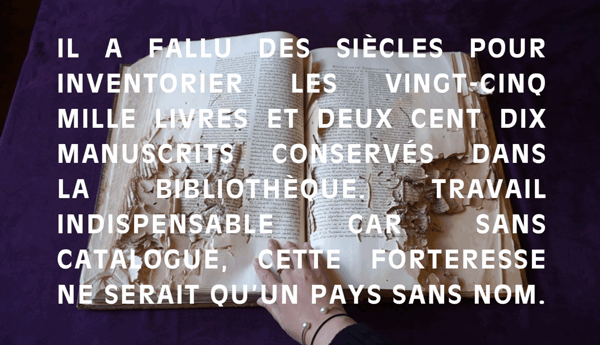 • Surface Sensible
3-10 Octobre 2015 au Palais Abdellia Tunis
Curators : Afif Riahi et Farah Khelil
Avec : Vincent Dulom, Felix Luque Sanchez, Frédéric Deslias, Filomena Borecka & Bruno Dubois, Magdi Mostafa, Scenocosme, Santiago Rorres, Veronique Verstraete & Mohamed-Ali Kommoun, Hejer Chalbi, Mehdi Haj Sassi.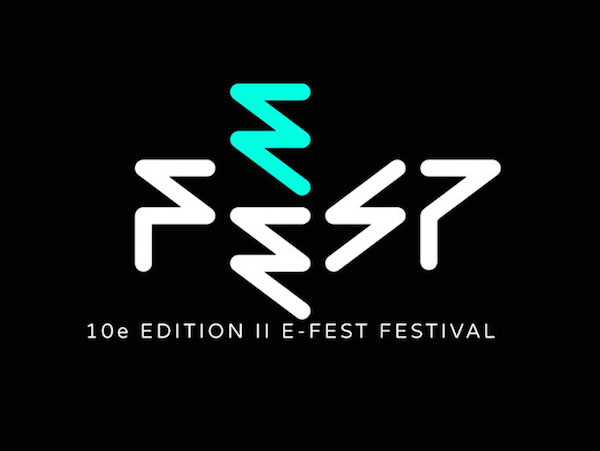 • Un Cabinet de Curiosités Part 3
03 > 06 Juillet 2015 Au 20 rue Cuvier, 75005 Paris
Avec Farah Khelil, Joseph Imhauser, antoine lefebvre editions
Live de Nu Dense Smoke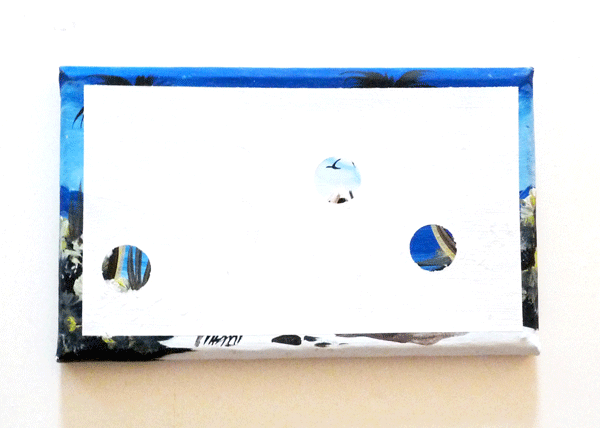 Point de vue, point d'écoute (Clichés I), série de peintures à dimensions variables, 2011-2014

• MOVE
Vidéo night, Carte blanche à Karima Célestin
Projections le 02 > 03 juillet 2015
CulturesInterface, Casablanca
Avec Mustapha Akrim, Hicham Berrada, Halida Boughriet, Farah Khelil, Bernard Pourrière, Dania Reymond, Mustapha Sedjal, Jeanne Susplugas, Michèle Sylvander, Sami Trabelsi, Universal Everything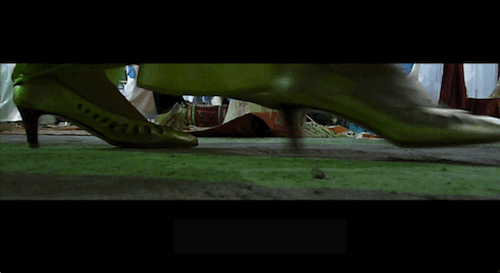 Point de vue, point d'écoute (Fêtes), vidéo, 2012

• L'inspiration a-t-elle des mains ou est-elle somnambule ?
12 Juin 2015 > 30 septembre 2015
Exposition personnelle, La Boîte, Groupe Kilani, Tunis.
Bruit, Animation, 00:04:26, 2015, en boucle, sans son

• Réminiscences
28 mai - 13 juin, Galerie AGorgi & Groupe Talan Tunisie
group show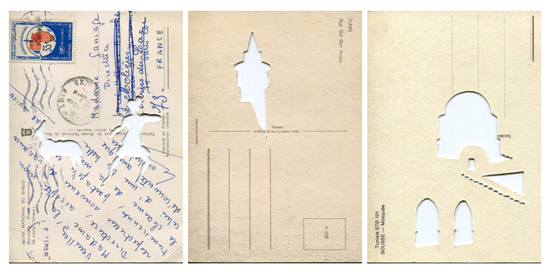 Point de vue, point d'écoute (clichés II) 2013-2015, 30 cartes postales modernes incisées.

• Mare Medi Terraneum
Es Baluard Museum of Modern and Contemporary Art of Palma de Mallorca (ES)
13.03.2015 - 30.08.2015
Commissaire : Cécile Bourne Farrell
Avec Ali Cherri, Marcel Dihanet, Lara Fluxa, Chourouk Hriech, Bouchra Khalili, Yazan Khalili, Farah Khelil, Ange Leccia, Rogelio López-Cuenca, Geoffroy Mathieu et Bertrand Stofleth, Antoni Muntadas, Marco Poloni, Hervé Paraponaris, Zineb Sedira, Oriol Vilanova, Yorgos Zois.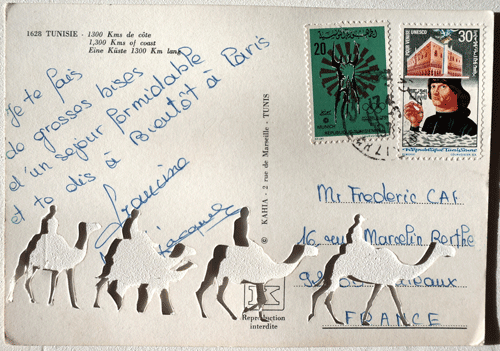 Point de vue, point d'écoute (clichés II) 2014, 20 cartes postales modernes incisées.

• Un cabinet de curiosités
at Undercurrent Projects, 215 E 5th St, New York
18/12/2014 - 03/01/2015
Curated by Antoine Lefebvre
With Charlotte Hubert, Farah Khelil, Juan Mendizabal, Benjamin Sabatier, Caroline Sebilleau, Cannelle Tanc, Frederic Vincent, Samuel Yal..
uncabinetdecuriosites.tumblr.com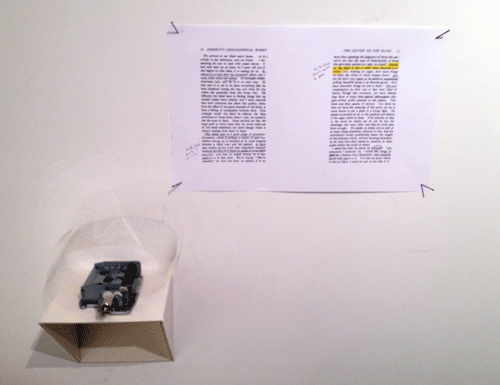 • Ph.D. Soutenance
"L'artiste en traducteur. La pensée du diagramme comme expérience de création"
Université Paris I Panthéon-Sorbonne
12 décembre 2014
salle Triangle au Centre Pompidou

• Restitution
Centre d'Art Fernand Léger à Port de bouc
6 - 19 décembre 2014
Avec Pierre Carrelet, Christophe Galatry, Farah Khelil, Sabine Massenet, Karine Maussiere, Denis Moreau, Martial Verdier, Philippe Valembois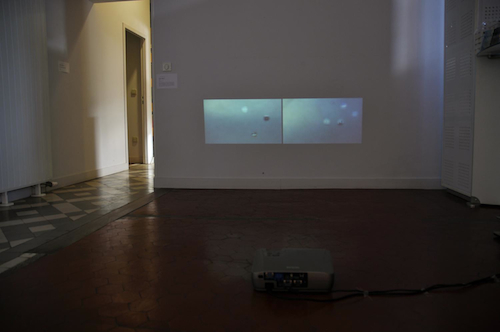 Holes, Vidéo 2012-2014 © photo : Christophe Galatry

• Rendre sensible, rendre visible. Pour une cartographie des formes
Journée d'étude à la Sorbonne, mardi 2 décembre 2014
Organisée par :
Ecole Supérieure d'Art et de Design (ESAD) de Reims
LASCO - Université Paris Descartes-Sorbonne / Institut Mines-Télécom
ETOS - Télécom Ecole de Management
Pour une cartographie des formes Farah Khelil

• MAPP'ing
Exposition organisée par E-FEST #09
du 8 - 16 novembre 2014 au Palais Abdellia à La Marsa, Tunis
Avec Daniel Canogar, Mark Fell, Farah Khelil, Hejer Chalbi & Nicolas Pfeiffer, Mike Latona & Jozef De Leeuw, Fabio Perletta & Giustino Di Gregorio, Gaëtan Robillart, Scénocosme, Candas Sisman, Ali Tnani, Visualizing Impact, Haythem Zakaria, Arthur Zerktouni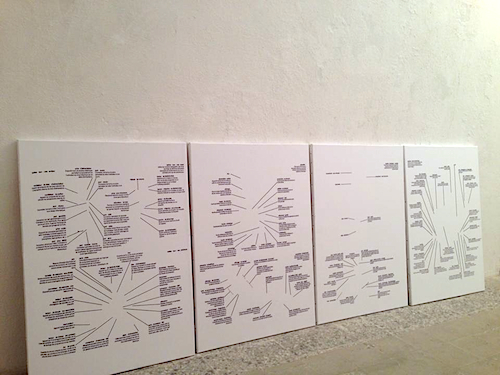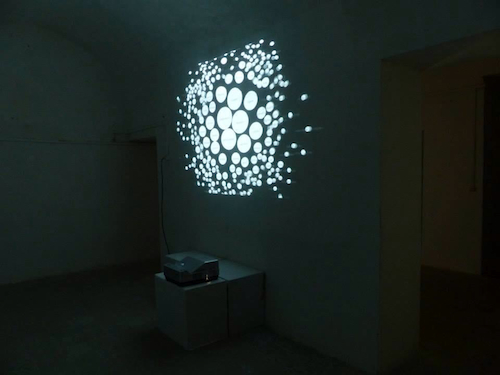 Vues de l'expostion

• Circumambulation
19 mai - 04 juin 2014, Galerie AGorgi & Groupe Talan Tunisie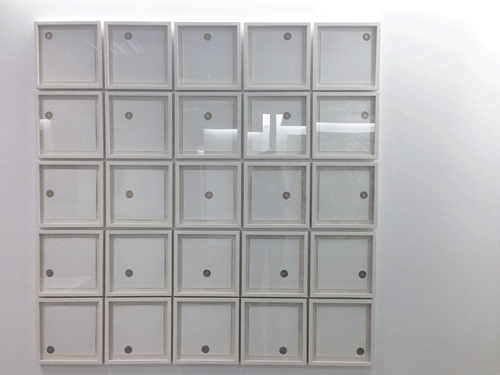 Iqra, encre, micromodule (puce) sur papier, 2014 © farah khelil - Collection privée

• Ce que le sonore fait au visuel
21 octobre - 21 décembre 2013 au Château de Servières, Marseille
Avec Filomena Borecka, Anaïs de Chabaneix, Charlotte Charbonnel, Claire Chesnier, Aurélie Herbet, Michaël Jourdet, Farah Khelil, Atsunobu Kohira, Jérôme Pierre, Magali Sanheira, Frédéric Kahn & Véronique Verstraete, Bill van Cutten
Commissariat : Jeune Création, Françoise Docquiert & Richard Conte

Dans le cadre de Marseille-Provence 2013 – Capitale européenne de la culture
>> Article | Ce que le sonore fait au visuel | La Provence | Jeudi 21.11.13

• Punctum
Exposition personnelle à l'Espace d'Art Mille Feuilles, Tunis
26 octobre - 14 novembre 2013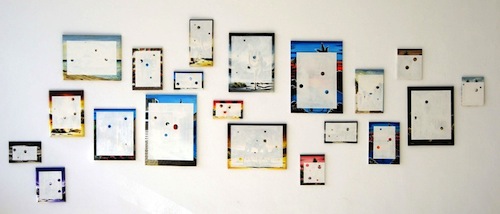 • Point de vue, point d'écoute - Exposition personnelle
dans le cadre du colloque international Gilbert Simondon et l'invention du futur au Centre Culturel International de Cerisy,
5 - 11 Aout 2013, Le Château, Normandie

• Publication Digitale Afrique, Création numérique et innovation technologique, Magazine des Cultures Digitales #71
Rédactrice en chef invitée Karen Dermineur.
Conférence à la Gaité lyrique
le Jeudi 27 juin 2013 à l'Auditorium à 19h30, Paris.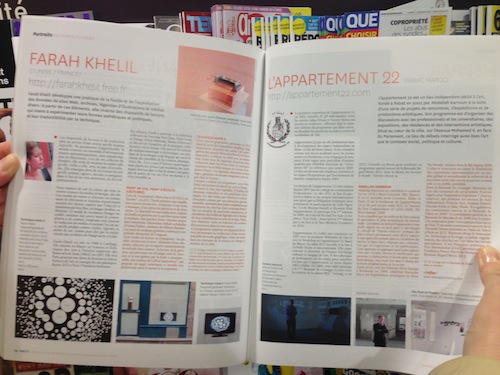 • Un phénomène de Bibliothèque
18 - 24 avril 2013 à la Galerie Immanence, Paris.
Avec Nancy Barton, Jérémie Bennequin, Yves Chaudouët, Michael Cohen, Eric Doeringer, Sirine Fattouh, Alexandre Faugeras, Nicolas Frespech, Jazon Frings, Ciprian Homorodean, Charlotte Hubert, Internationale Situationniste, Farah Khelil, Stéphane Lecomte, Antoine Lefebvre, Auguste Legrand, Emeric Lhuisset, Philippe Mairesse, Stéphane Mallarmé...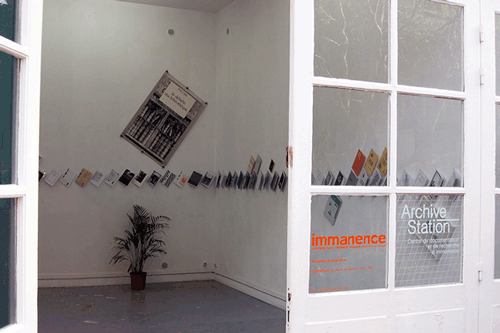 Vue de l'exposition

• Shuffling Cards. Mouvement aléatoire des cartes
commisariat Cécile Bourne-Farrell, Galerie des grands Bains douches de la Plaine, Marseille, 15 novembre 2012 - 30 janvier 2013.
Avec Mohssin Harraki, Katia Kameli, Farah Khelil, Grace Ndiritu, Otobong Nkanga, Catherine Poncin, Karim Rafi, Andrea Stultiens, Achraf Touloub, James Webb.



Dans le cadre de Marseille-Provence 2013 – Capitale européenne de la culture
Re-voir l'Afrique | Zibeline | Marseille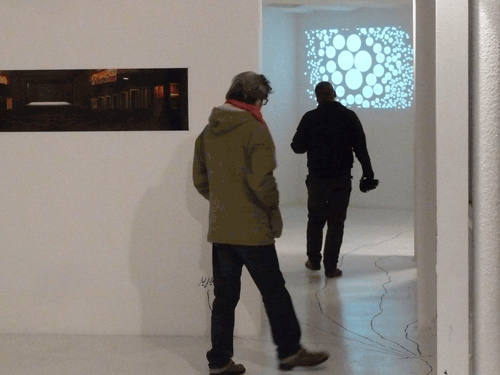 Vue de l'exposition

Exposition organisée par E-FEST #07
18 - 24 décembre 2012 au Palais Abdellia La Marsa, Tunis.
Avec Cécile Beau & Nicolas Montgermont, Horia Cosmin Samoïla & Marie Christine Driesen, Olivier Meunier & Stéphanie Laforce, Cyrille Henry, Farah Khelil, Lyès Belhocine & Drew Detweiler, Alexander Schubert, Ali Tnani & Lukas Truniger, Haythem Zakaria, Arthur Zerktouni.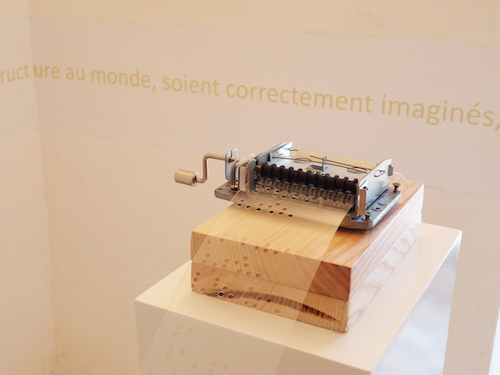 Point de vue, point d'écoute (Lectures) 2012

• Figures du sommeil
commissariat Catherine Violet. Galerie municipale Jean Collet, Vitry-sur-Seine. 23 mars 2012 - 6 mai 2012
Avec Jean-Pierre Bonnardot, Claire Chesnier, Richard Conte, Mojgan Erfani, Agnès Foiret, Anne Gavarret, Farah Khelil, Marielle Moreaux, Sophie Noguet, Benjamin Sabatier, Yann Toma, Véronique Verstraete & Frédéric Kahn, Raphaël Vincenot.

Point de vue, point d'écoute (Nuits blanches) 2010

• Artistes des insurrections dans le monde arabe
commissariat Siwa, Galerie Talmart, Paris
13 - 21 janvier 2012
Avec Shadi Al Zaqzouq, L'Indic, Farah Khelil, Jamila Lamrani, Sadek Rahim, Massinissa Selmani, Ali Tnani...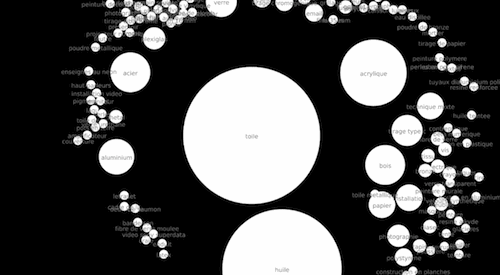 Technique mixte 2012

• Contours
commissariat Khadija Hamdi, Galerie Le Violon Bleu, Tunis.
15 octobre 2011 - 15 novembre 2011
Avec Ismail Bahri, Jérémie Bennequin, Leila Brett, Farah Khelil, Najia Mehadji, Lionel Sabatté.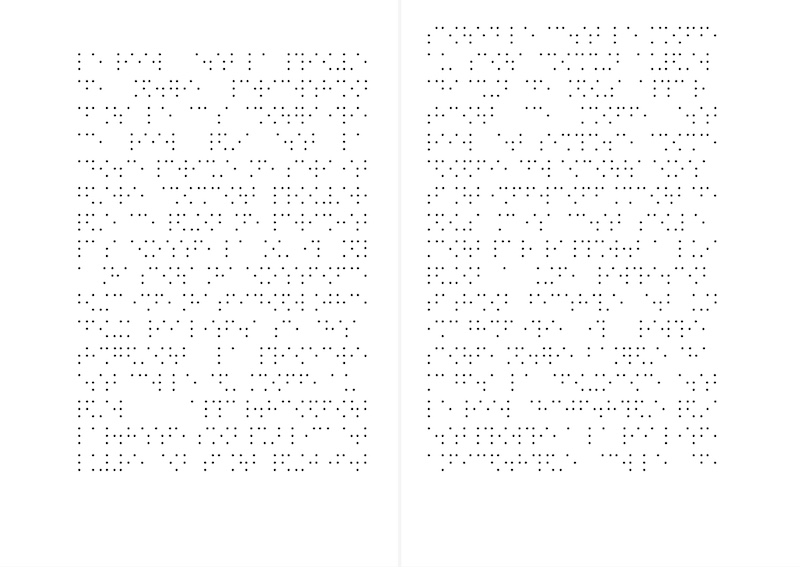 Un livre aveugle 2009

• Technique mixte
Exposition organisée par E-FEST #05
3 juin 2010 - 6 juin 2010, Acropolium de Carthage, Tunis.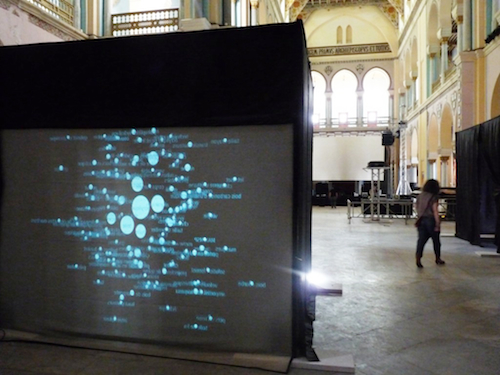 Technique mixte 2010

• En famille
Panorama collectif et subjectif de photographies de famille.
Edition L'héliotrope #03 2009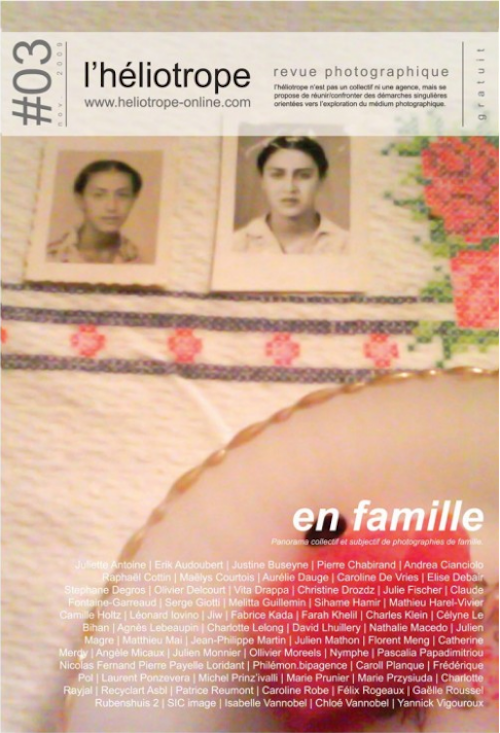 En couverture (c) Farah Khelil "Ressemblances" 2009